BFI London Film Festival 2018...
By David Anderson Cutler
Welcome to our coverage of the BFI London Film Festival 2018...over the next 12 days we are going to be run ragged...between screenings, interviews and photocalls.
---
Wednesday 10 October 2018...

Widows
Directed by Steve McQueen
From London to Chicago, these Widows have emigrated and been updated. No more a 1980s, UK TV drama series by Lynda La Plante...but, an adapted, big-budget, big-named, potential blockbuster...with the [obvious] potential to become a franchise!
These women all lived in the shadow and pockets of their now-deceased, [seriously] criminal husbands...all they left behind was...debt and grief. Who said crime pays?!? But, debts have to be paid...and, grief has to be dealt with - these women [duly] step up to the plate and knock it out of the park!
The frequent twists and turns will certainly keep the interest going throughout. The violence will make you flinch...as will the racism and sexism. And, it does gallop along at a furious pace...with a few stumbles here and there. There's an emotional, tragic and controversial subplot/backstory that could have been exploited more. But, Mr McQueen does not take his audience for granted nor does he spell everything out. There are gaps, there are loose-ends, there are quite a few unanswered questions. Some may regards these as flaws...or, some may think that Mr McQueen is teasing and tantalising for a prequel and a sequel...why start at the beginning when you can start in the middle?!?
Viola Davis is no shrinking violet, far from it, she carries the weight of the film on her rather impressive frame...with admirable support. Without a shadow of doubt, she could easily carry this story forwards and backwards.
Titillating stuff!!!
---
Thursday 11 October 2018...

Colette
Directed by Wash Westmoreland
Apart from one minor complaint...this a beautifully produced, directed and performed film!
The complaint is...the [obvious] transference [of - especially - pronouns] into today's liberalism [i.e. modernity]...into those long gone [wrought-iron] days...of puritanism...counter-balanced by that famed, golden-age of no-holes-barred hedonism [for those who could afford it]...or, is our complaint a legitimate one? This is an interpretation of those times...pinches of salt are required. And, let's face it, food without salt can be tasteless.
Colette is tasty! Well-seasoned. And, delicious...
We've all heard of those care-free days when eyebrows were seldom raised at some [very] eyebrow-raising 'situations' - even by today's standards...an on-stage lesbian/trans Cleopatra-infused with dubious production values...may raise eyebrows far and beyond the deepest of widow's peaks! But...Wash Westmoreland has embraced theaticality and thrown it into his film...without reserve. Good decision.
Dominic West plays it large and revels...aided by a script of Wildean wit. It is his film...that is, until Colette finds her feet and voice. Keira Knightley does coy and coquettish...as we all expect...well. But, Keira Knightley is no longer a girl...she is many a man's and many a woman's fantasy...and doesn't just she live up to [and relish in] the part! A seductress with little patience for [sexual] apathy...and, an unquenchable thirst for passion and prose.
Colette's story is intriguing...and, worthy of further exploration...she challenged the patriarchy, she lived openly with a tans*man. She was a woman of our times in those times! Our initial complaint...well...just, dismiss it! Sometimes...transference is just what the doctor ordered!
Without pioneers, humanity would never move forward. Colette was a pioneer. This film does her the justice she deserves.
Thank you Mr Westmoreland. Thank you Mr Glatzer.

Girl
By Lukas Dhont
Be still my breaking heart...
There has been a recent uproar - by [those] anonymous, gobby, armchair activists [who scream and shout at everything streaming on Netflix] - demanding a boycot of this film. Listen to them not! A trans*character does not need to be played by a trans*actor...the best 'actor' for the job should play the role. And, Lukas Dhont found the perfect actor in Victor Polster to play Lara.
Breathtaking is not a word we use regulary...but, breathtaking is what Victor Polster is! Lara says little throughout the film, she has so much on her young mind...the transition, the secret...and, the ballet. All punishing on the body, the mind and soul Can she keep it all together? Or, will she break? The entire film leads up to that question...the answer is...well, you will have to watch it to find out.
At times, there's a real sense of this being a fly-on-the-wall documentary...Lukas Dhont observes...and, it so immersive that at no time do you disbelieve anything that is shown. Gleaned from his short film, Girl is one mighty fine debut feature. Let us hope he has more [quality] projects up his sleeve!
To be overwhelmed by a film is a remarkable achievement...be overwhelmed!
Border / Gräns
Directed by Ali Abbasi
The less you know about this film...the better!
Watch with an open mind...as a tale of incredible cruelty, depravity and love-in-the-unlikeliest-of-places between an unlikely couple uniquely unfolds. They are not what they seem!
Ali Abbasi - basically - draws a very fuzzy line between man and monster. He mulls it over and presents a jaw-dropping treatise on humanity and plays with the whole concept that beauty is in the eye of the beholder and real beauty is within!
This is bold, challenging and daring cinema...in the wrong hands it could have disintegrated right before your very eyes...but, Eva Melander and Eero Milonoff deliver remarkable, grizzly performances.
It does have moments of extreme tenderness...but, on the whole, it's as unpleasant as can be...human depravity is an assault to the senses.
Here's a film that will touch all of your senses and make you think long and hard!
An un-missable achievement!
Happy New Year, Colin Burstead
Directed by Ben Wheatley
Every now and then, a director needs to unleash a pet project upon the general public...more often than not, they needn't have bothered. Ben Wheatley's [uncharacteristic] latest falls - jarringly - into that category. Think: Mike Leigh...without Mike Leigh's dexterity!
It's akin to watching a second-rate day-time soap [admittedly with better actors] about a thoroughly unpleasant and constantly bickering family. There is an uncomfortable feeling that floats around..are we [the audience] meant to laugh at this familial dysfunction? Because, none of it is actually funny!
This is a [mostly] improvised, ensemble piece - with all the weaknesses that [improvised] ensemble pieces [usually] have - the more interesting characters get a lost...Charles Dance's Uncle Bertie [every family has one!] and Richard Glover's [fallen from grace] Lord - sadly - fall victim. Doon Mackichan should have been exploited more...she, as the matriarch, is deliciously vile. All the other characters veer towards the incidental and/or are annoying, Asim Chaudhry does exactly the same play-it-for-cheap-laughs act as he did in Eaten by Lions - oops!

Filmed with hand-held cameras...with - quite often - a dizzying effect. It looks cheap...and, since Mr Wheatley has an envious and laudable reputation for producing slickety-slick films...you may feel rather cheated.
Mr Wheatley, glad you got this off your chest...now, stick to what you do best!
---
Friday 12 October 2018...

Sauvage
Directed by Camille Vidal-Naquet
You were made to be loved...
A staggering way to end a 'relationship' and, beyond measure, a staggeringly stabbing film. Félix Maritaud is - practically - never off-screen and there is a good reason...he is absolutely commanding as this hapless hooker hellbent on finding a love that goes by any name you want to call it.
Vulnerabilities abound around this young man...his tragedy is smeared across his face from the beginning. But...this is not - in the strictest sense of the word - a tragedy...as tragic as it is. There is one scene - in the doctor's surgery - that will simply take your breath away...and the director holds the moment long enough to let the tears flow freely, it's a heartbreak...as this young man's true loneliness and unavoidable immaturity comes to the surface...gasping for air. At 22, he's still a [failed] boy in a [beautiful] man's body...he has no backstory...but, he understands the power of beauty and youth...but, has no idea how to use it to his advantage. He is a statistic...wow...isn't that cold? But...Monsieur Maritaud's warmth will rouse the 'protector' in everyone who happens to encounter him!
Certainly, it's a graphic...it needs to be, to get the point across...and, it gets the point across - intolerably loud &  unpleasantly clear. Man's capacity to degrade and defile another human being is a difficult pill to swallow. However, the bitterest pill of them all is...a man's ability [and capacity] to consent to such degradation. This whole hideous reality is revealed in one of the most eye-watering scenes in cinematic history!
Camille Vidal-Naquet certainly puts across the idea that some [people] are meant to end up the way they end up....simply down to the fact that they wanted to end up that way! Most people think that prostitution is wrought from dire necessity rather than a free choice. Well, this film turns that notion on its head! Yes, prostitution can be a means-to-a-way-out, it can also be a means-of-living-for-the-moment!
Get an old man...he's told. But, being an idealist who neither wants to compromise his idea of love nor settle for a security in exchange for being him...on-call, on a leash. His sense of morality could tarnish the most moral.
Complex issues, a thumping soundtrack...and, with a virtuoso performance...Sauvage is a brutal depiction of an underclass. By no means is this an easy watch...but, it will pull at your heartstrings from every conceivable angle.
An astounding piece of work. Merci Messieurs Vidal-Naquet et Maritaud - a perfect example of a director's actor and an actor's director.

Make Me Up
Directed by Rachel Maclean
If Margaret Thatcher and Dr Frank'n'Furter had had a baby [oooh me Begonias have all gone limp]...then, this here drag queen...is the embodiment of that all-grown-up gobby bambino! She spouts, screams and screeches...repeat and repeat and repeat! **SPOILER ALERT** All this film amounts to is...killing a drag queen and a lesbian snog!
It's a caca-ophonous [sic], infuriatingly repetitive, definitely deafening diatribe...on feminisim! Rachel McLean is [no spoilers here] a [revolutionary...oooh me Begonias] feminist [one of those man-hating ones, if this is anything to go by]...what she fails to realise is...women are feminism's greatest adversary! And this film ain't gonna be helping the cause! Not because it's not commercial...but, because it is [cue: euphemism] not very good.
Everything in this film is borrowed (that's a [not an other one!] euphemism for stolen)...from Alice-in-Wonderland to The-Spice-Girls via Botticelli and Henry Moore...there are [many] others...too exhaustive to list. Who need originality when pilfering is so much less labour intensive?!?
Good grief...why do 'artists' think they can make a film? Too much public money went into this...the BBC & Creative Scotland should be held more responsible for their irresponsible spending...who in God's name gave this the greenlight and then signed the cheque!?! Sack them immediately!
As for Ms Maclean...do what you do best...ripping off Jules & Pierre! Who next: Gilbert & George?

On a more positive note...the make-up was goooood!

Knife+Heart / Un couteau dans le coeur
Directed by Yann Gonzalez
Nothing quite like mixing up the genres to get the critics sizzling and scribbling...
Yann Gonzalez has thrown just about everything at the screen...and, depending on your taste and/or sense-of-humour...and, with a very large pinch of salt...most of it sticks! You are either going to love or loathe this film. We loved it!
If ever Hammer House of Horror, the House of Giallo and the Carry On team teamed up...then, Knife+Heart is what could have been produced. Well, Mr Gonzalez has done the improbable. With a(n) unique vision and the frequent nods to many a fine flick...this is a camp and twisted, dark and chaotic, [soft-ish] porn-infused melange of style and substance.
Vanessa Paradis holds it all together with her portayal of an alcoholic, recently dumped, broken-hearted, lesbian-gay-porn-director...fighting, tooth-and-nail, many a battle...against the bottle, for her lost love, her dissolving business...and, against the madly bewigged, masked murderer who is murdering all of her cast!
At no point can any of this be taken seriously...though, thankfully, nothing is played for a cheap laugh...and that's what makes it screamingly funny. With a fluffer known as the Mouth [of Gold]...who could take this seriously!?! What a job!!!
The story does go off-the-rails in places - but, finds its way back...and - dare we say it - it could have been a little more explicit, all the porn scenes were very vanilla - perhaps, Mr Gonzalez is holding out for the Director's Cut!
For horror aficionados, it has all the required ingredients. There's blood [lots of it], gay sex [lots of it], alcohol [lots of it], murders galore...and, a deadly dildo! What's not to like?!?
Total escapism...bizarre and borderline brilliant - depending on your taste and/or sense-of-humour!
---
Saturday 13 October 2018...

Beautiful Boy
Directed by Felix Van Groeningen
A father and son...not one of the easiest relationships, high expectations and footstep-following usually cause deep fractures. But, when a father's love for his son is intense and pure, the only way to save the relationship is to deliberately cause a deep fracture. Sharp intake of breath...fight back those tears!
Beautiful Boy is a beautiful film. No, it's not this generation's anti-drug film...it's not what the likes of Christiane F was...grubby, insanitary, insane, degrading...and, tragic. Here, a middle-class boy has a disease, it's called: Addiction. This is a message that the writers make lound & clear...addiction is a disease. Not some kind of hedonistic irresponsibility! If people only did what what David Sheff did, many more [young] lives would have been saved...and, still, could be saved.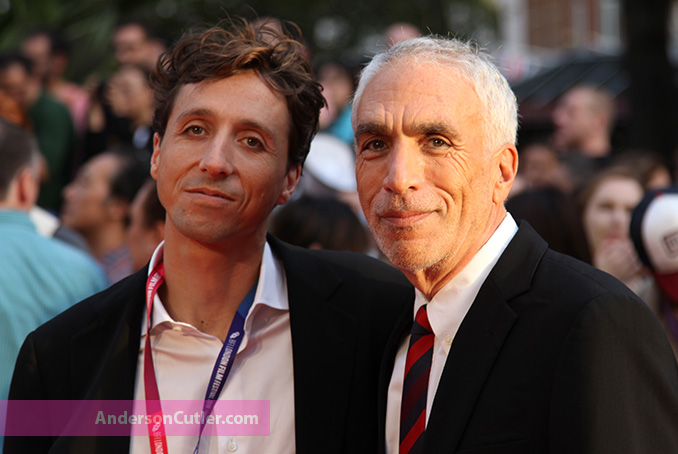 Beautiful Boy is an emotional rollecoaster...the on-screen relationship between Steve Carell & Timothée Chalamet has 'everything' that makes the award-givers sit up and take notice. This could have easily been a straightforward riches-to-rags story...but, the timeline has been mixed around with an astounding effect. Young Nic, carefree Nic, tormented Nic, addicted Nic are all juxtapositioned to maximise the gruelling toll that addiction demands..from both the addict and their family. Felix Van Groeningen may have more than a shoe-in for Mr Oscar!
Prepare yourself...Beautiful Boy will break and warm your heart at the same time. The sheer poignancy of the resonated as the real Father and son stepped onto the red carpet...
Respect, admiration and gratitude...to David and Nic Sheff for sharing their story.

Rafiki
Directed by Wanuri Kahiu
Hasn't this little film caused quite a stir...in Kenya. Banned, ban temporarily lifted...so that it could qualify for Mr Oscar [it needed a theatrical release]...and then, presumably, banned again! At the time of writing, Rafiki is Kenya's second most successful film. Any guesses as to what is the most successful?!?
A mighty congratulations must go to Wanuri Kahiu [& team]...for getting this made [in Kenya] in the first place. And, a thank you...it is an absolute delight of a film...with some particularly unpleasant moments. Rafiki is a plain-and-simple, run-of-the-mill love-story...between two young women in a religiously-littered, narrow-minded Kenya. So, the plain-and-simple ain't too plain and it - most definitely - ain't so simple.
Samantha Mugatsia & Sheila Munyiva are adorable as the young-in-love couple, their acting is both free and natural...oooh, you just want everything to work out for them. Wanuri Kahiu amplifies the depth of their feelings with very tight framing, the [many] close-ups really do invite you into their affection. So, when a film as affectionate as this is ruffles the feathers of the Kenyan Government...surely, the Kenyan Government should look inwards and ask itself some very serious questions!
A small film with a massive impact. Let us hope it gets the Oscar nod it deserves.

Won't You Be My Neighbor
Directed by Morgan Neville
Knowing absolutely nothing about Fred Rogers [that is, practically everyone outside of the USA], spending 2 hours in his company may seem like a hard ask...don't let it be.
What a surprise...Fred Rogers has a story to tell and this films tells it well...with all the highs and all the lows, the successes and the failures. So, sit back, relax...and, enjoy [to a point] and recoil at the insinuations...by the overly 'righteous' - about a genuinely decent and caring man.
He was a religious man. He did not discriminate...on any platform. He adored children. He seemed to understand children like no other [patronising] children's presenter then, now...or, whenever! And, he delighted and enlightened many a young life...
Won't You Be My Neighbor? is - and, shouldn't be - a sad film. A man's life's work has been, by some - for want of a better word - mutilated...by mere unfounded, ungrounded accusation. Morgan Neville has rectified the situation...
This is a fitting tribute to the man who, not only entertained...but, educated millions of children...most welcome...but, long overdue.
Lizzie
Directed by Craig William Macneill
The enduring tale of Lizzie Borden...gets overhauled, yet again! How many times can this tale be told? Countless, it would seem.
For those unacquainted with Lizzie...well, over a hundred years ago, Lizzie was put on trial for the murders of her [rather wealthy] father and step-mother. She was acquitted!
This Lizzie is a total and mindless fabrication of the facts...making out that Lizzie - unequivocally - did do the murders due to being 'discovered' - en flagrante - in a lesbian tryst with her maid...who was her incompetent accomplice in the crime...but, a competent witness in aiding and abetting her actual acquittal.
The question has to be asked: Why is the Lizzie Borden story so enduring? Legally, it highlights the 'irregularities' within the judicial system. It also gives an insight into the inadmissibility of evidence and the competence to testify...as well as highlighting the well-defined route of probate...and, the oldest of legal chestnuts, the jury's [and the public's] ability to subjectively pre-judge. Where's that good old-fashioned objectivity when you [legally] need it!?! Many an accused has been 'saved' due to the lack of it! Legally, it's a fascinating case.
Sadly, this film is not...for it does not concern itself wholly with the trial. Instead, it relies on strings of sapphic invention that get [all] knotted up within an inexplicably muddled time-line. Craig William Macneill's cinematic pace is too slow to start and too quick too finish...and, with a middle that stumbles all over the place.
Now, the whole Lizzie-was-a-lezzie theory is not new...Ed McBain dreamt up this little peach way back in 1984...so, Bryce Kass' screenplay is a shining example of brazen plagiarism. Or, to be politely euphemistic, he borrowed the idea...but, failed to make his script as brazen as it had the potential to be...even with those [eccentric] lines infused with some neo-feminist chic!
Chloe Sevigny, Kristen Stewart and Fiona Shaw all convince. Even the cinematographer convinces. Such a shame that neither director nor writer could do a similar [good] job.
---
Sunday 14 October 2018...
Two Plains and a Fancy
Directed by Whitney Horn & Lev Kalman
What a motley crew: A witless dandy, a gibbering Geologist...and, a mendacious mystic!
Two Plains and a Fancy requires a certain sense-of-humour...and, an appreciation for seriously independent, seriously small budgeted cinema. If you have the sense-of-humour and the appreciation...then, this here film - as bizarre as it is...is the film for you.

Admirably, filmed on film...the directors rehearsed [and rehearsed] their actors so they could keep re-takes to a minimum. Film ain't [y'know] cheap and this is a cheap film! Not everyone will get it, those who do...well done. Those who don't...well, give credit where credit is due...to the sheer tenacity and dedication of independent filmmakers! For this is a shining example!

Dogman
Directed by Matteo Garrone
Some will argue...there's no such a thing as a dangerous dog, only dangerous owners!
Simone is a Pit-Bull of a man, everyone - in this depressed, dilapidated Italian coastal town - fear and avoid him. Except for one...the Dogman himself: Marcello, an animal lover, a small-time Cocaine dealer, a get-away driver...and, a doting father. He is a gentle soul.
For Marcello, there's no such a thing as a dangerous dog nor are there dangerous men. You've just got to know how to talk to them and how to treat them... you just gotta find their sweet-spot.
Apart from one off-screen act of animal cruelty, there is none to speak of, quite the opposite in fact...but, the amount of human cruelty is relentless. A genial soul is left in tatters...a monster-of-a-man maketh a monster-of-a-man!
Matteo Garrone manages to inject [visual] humour in the darkest of places...a corpse being bundled into the back of a van, only the handbrake is not on...opps. It's a visual gag - one of many - and they work a treat...as do the long pensive shots of a ruined man.
This is a complex film with a standout performance by Marcello Fonte, he will make you laugh, cry...but, above all, you will genuinely like him. It's a remarkable character arc...from the harmless, to the harmed, to the harmer - what a journey it is.
What a film...as unpleasant as it it...it is an absolute marvel!
---
Monday 15 October 2018...

Life Itself
Directed by
Dan Fogelman
From the creator of the exceptional This is Us, Dan Fogelman generously serves a great big dollop of his sharp-in-take-of-breath style of writing. He is a master of his craft...time and timelines are thrown to the wind, the effect is consecutive sharp-in-takes-of-breaths. For Life Itself have a box of hankies at hand...you'll need them, time and time again!
The film is about love...in all its beguiling shapes and forms and sizes. Two continents, two familes...too many tragedies. Oscar Isaac throws in a performance that could - quite easily - change the trajectory of his career...towards meatier roles and that - much-desired - Oscar nod! And, Laia Costa delivers a monolgue that will drain the very last tear out of your already tear-stained eyes!
But...the star of this show is Dan Fogelman - as distinctive and distinguished a writer as he is, he certainly knows how to weave a story from so many threads without leaving anything dangling. Strangely, this is only Mr Fogelman's second feature...everyone knows he can write a great story, with Life Itself he shows how well he can tell those stories.

Sharp intakes of breath, massive out-pouring of tears.
The Green Fog
Directed by Guy Maddin
Are you asleep?
Just when you thought you had seen the worst of the worst...the worst film comes along.
Guy Maddin's films are either hit or miss. This, wow, is so bizarre...in that...what a total waste of time and money. Reinterpreting Alfred Hitchock's Vertigo [why?]...through clips of American TV shows and films [all set in San Francisco]. What a pointless Herculean task!
Are you asleep?
Although tried...but, impossible due to the manic, ear-splitting soundtrack. But, all is not a complete waste of time...there is a quick little scene with Michael Douglas telling himself he ought to consider a career in showbusiness, it got a few laughs!
The experimentalists will love it. Editors will marvel at the amount of work that went into it...the hoi polloi will just be bamboozled.
---
Tuesday 16 October 2018...

Suspiria
Directed by Luca Guadagnino
Take a trashy Giallo film from 1977, throw everything at it, including the kitchen sink...and, some big names...what do you get? The same trashy film with higher production values! Many re-makes are unnecessary...this is a shining example!
The [main] problem with Suspiria is monotony, the Tilda-does-Gramps storyline just slows everything down. The sporadic 'horror' is not that horrific. And, the music...what was Thom Yorke on when he 'composed' this? If his remit was dull-and-depressing and torturous-to-the-ear, he did a damn good job.
Now, as some may know, we here @CGiii.com love contemporary dance...and, Suspiria has a generous helping. The choreography is impressive...then there are the costumes, [laughably] marred by the [unnecessary] addition of big M&S underpants. Yes, the actors probably wanted to preserve their modesty...but, c'mon, there must be better ways to cover their bits than by great big M&S knickers!
Luca Guadagnino received the Oscar nod with his last film - Call Me by Your Name - he'll be getting no nods for this good-looking disaster.

Touch Me Not
Directed by Adina Pintilie
Only half a review…because, the exploitation and pseudo-intellectual guff [not to mention the mind-numbing monotony] was/were – simply - too much to bear…for a further 65 minutes. Yes, we actually sat through the first 60 minutes trying not to scream at the screen! Exhausting…and, to think, this won the Golden Bear and the Best First Feature Award @ Berlinale!
Call it what you will: An experimental, cathartic, arthouse, some kind of docu-drama hybrid…it is – in fact – a very effective, quick-working, brain-killing barbiturate…battling sleep was the only thing that kept 'us' awake throughout the first hour!
Laura Benson states that she is 90% terrified of…and, 10% 'kind-of-comfortable' with…filming. Only sado-masochists would be 'comfortable' to watch this 'character' indulge in her quest – usually via sex workers – to break down the [mighty] barriers of her intimacy problems! Sweetness, there are therapists that can do a [much] better job than this cathartic indulgence!
If the 'director' had not been so self-absorbed, Touch Me Not could have/should have been an absorbing and touching [pardon the pun] look at intimacy through various percspectives…instead, rather than feeling the 'humanity' that is intimacy, she went for the 'shock' effect – wrong direction, resulting in a disaster of a film. Who knows, it may have become a master-work in the second part, hence the awards…but, when you can't retain an audience, this particular audience member embraced disinterest and walked out...thereby, saving the audience from uninhibited and unbridled snoring!
Carmen & Lola
Directed by Arantxa Echevarria
Here's a first...a lesbian love story set in the gypsy community...with a gypsy cast of non-professional actors!
Due credit must be given to the director - Arantxa Echevarria - for (1) getting this film made in the first place...and, (2) getting such credible performances out of these non-pros! Definitely, an actor's director!
It would be interesting to find out the how the gypsy community reacts to this film...they are a minority who are under-represented in cinema...and, when they are, it's not exactly positive. And, no surprises, Carmen & Lola doesn't exactly paint a brighter picture.
Same-sex love is not what this religion-dominated minority is well-versed in...so, for a film, to address the subject - with actual members of the community - is ground-breaking. You know how it's going to end, the in-grained homophobia is not going to change overnight - indeed, it may never change.
What this film does...is to face the difficult choices that men and women have to be make. Living in denial seems like the 'easier' option. Life in the 'closet' is another. There are also the 'fight-or-flee' options...fighting?!? One against many! Flee..leaving all that you love...behind...to walk into an unfamiliar world, a world that is - quite franky - racist towards the gypsy community!
What will Carmen and Lola do? Watch to find out! You won't be disappointed. This is an important film...it educates and enlightens...for those within and those outside the gypsy community.
Well done!

Happy as Lazzaro / Lazzaro Felice
Directed by Alice Rohrwacher
Every now and then a film comes around that will affect you deeply. This is one such film. And, quite possibly, the best film in the festival.
Alice Rohrwacher's scathing parody is a remarkable, deeply moving, cerebral achievement. This is a film of two halves: The ordinary and the extraordinary. The less said about it, the better. Because...in places, it simply takes your breath away as you realise and think...what the Hell is going on? Once you get your head around it all, it all starts to make perfect, brutal sense...in the most gentle way imaginable...so surprising, since this is a tale about greed pitted against innocence, criminal exploitation by mean-spirited manipulation.
Adriano Tardiolo is prefect as Lazzaro, beautiful, innocent and adorable - he carries the film from the humble beginning to the bewildering end. If ever a character could bring out the 'protector' in all who bears witness to this tale...then, Lazzaro is it! You would - without hesitation - take a bullet for this young man.
This is nothing short of a masterwork. Alice Rohrwacher should be extremely proud. Do whatever you can to experience this film...you will not - by no stretch of the imagination although your imagination will be stretched - be disappointed. It really is that good!
---
Wednesday 17 October 2018...
Consequences / Posledice
Directed by Darko Stante
False accusation and the fallout. Be assured, it's grim...watching a young man dissolve in front of your eyes is...as unpleasant as it gets. But...what a film, an agonising white-knuckle ride into despair. Without a doubt, the best first feature of the year! Kudos to Darko Stante and his cast.
These young, relatively inexperienced actors give their self-identified, alpha-male thugs the conviction they need...you wouldn't want to be meeting any these lads on a dark, lonely street. Timon Sturbej does psychopathic scarily well...with a thread of sensitivity that he switches on and off like a light-switch as he also does with his sexual preferences. He has a diminutive side-kick who is rotten to the core...not exactly the best friends a young man can have. That's exactly what the become...Andrej's 'friend' - he won't be needing any enemies with chums like these!
Andrej is 'comfortable' with his sexuality, it's what got him into trouble in the first place. But...unrequited love for a psychopath is always going to end in tears. Darko Stante stretches his characters to breaking point, they all break...in different ways. Matej Zemljic does a remarkable job in bringing Andrej to life...you really do feel for this kid, all his stupid decisions...knowing, in there somewhere, there's a good kid screaming to get out. He doesn't stand a chance!
Consquences is a tough watch...especially in these super-sensitive days when an accusation becomes an automatic indictment. Innocent until proven guilty is - seemingly - a thing of the past! This film certainly looks at responsibility...with a scathing attack on parental responsibility - when should it end? Sould it ever end?
Slovenia is not known for its cinematic output, this mighty fine debut from Mr Stante has put his country on the cinematic map. It really is a remarkable piece of work.
Outlaw/King
Directed by David Mackenzie
To be honest, expectations weren't particularly high for this Netflix production...everyone [Scottish and/or of a certain age] will immediately compare it with Braveheart - Mel made a mountain of money through historical revisionism! The time is ripe to do it all again! The Scottish independants will jump on this...yelping: This is what they did...to us!!! Being Scottish [myself], events that occured hundreds of years ago bear no importance upon the current political [changing] climate...'they' [whoever 'they' are] say we should learn from our history and never repeat those mistakes again...been watching 'The News' recently?!? Let's be honest here...[most] revisionism falls into - what only can be described as...dangerous [political] propaganda...that [usually] serves a self-serving agenda!
Indeed, Outlaw/King does have its fair-share of historical re-writing...but, not as extreme as Braveheart...nor, does it tug at your heartstrings the way Braveheart unashamedly did. This is a ripping yarn of a fractured Scotland [doesn't that sound familiar!?!]...as Robert the Bruce, Chris Pine's charisma manages to [partly] unite the country and through some wily strategies manages to notch up a few victories...all hail the King of Scots! Wouldn't the SNP love to be hailing that!!! Pity they have neither wily strategy nor charisma.

Of Love & Law
Directed by Hikaru Toda
Whoever said there is no such a thing as a good lawyer ought to meet this couple!
Both under-paid, self-employed lawyers...really, for the greater good, this Japanese gay couple open their hearts and minds for all the world to see. They are complete opposites...who are perfectly synched to each - there is a certain tragi-comedic vein to their relationship. In places, it's emotional, it's funny...but, most of all, it's utterly, utterly charming.
If a documentary's raison d'être is to enlighten, educate and entertain...then, Of Love & Law fulfills the criteria admirably. Learn about Japanese culture and ' reading the air' - hear some pretty nifty legal arguments and listen to some truly awful singing!
An affectionate film that will warm the cockles of your heart. Quite, quite lovely.

Maki'la
Directed by Macherie Ekwa Bahango
The Democratic Republic of Congo is not known for making films...Maki'la deserves to be applauded for being made in what can only be described as a troubled country.
That trouble extends into the film...this a bleak and violent tale of street people...Congo's homeless. Life expectancy isn't too optimistic for these people...Machérie Ekwa Bahango delivers this news, deafeningly loud and violently clear.
Domestic abuse, mental health, drug addiction, alcoholism, prostitution - even witchcraft...affect the lives of all who scrape a living. Needless to say some of the characters are a little unhinged, Mbingazor [husband/boyfriend/would-be-preacher] is an unflinching monster of a man...played to the extreme, i.e. over-acted. There are a few other weak performances...but, Maki'la herself is the shining light in this film. The agony of her existence is as unpleasant and is it palpable.
This is a brave film that suffers from inexperience and lack of money. But, still, talent oozes out - definitely, worth a watch...it is a deeply affecting film.
And, it is a privilege to watch what filmmakers in difficult situations are making. The future looks bright for Congolese filmmaking if this is anything to go by.

The Cannibal Club / O Clube dos Canibais
Directed by Guto Parente
No guesses as to what this is about? Yip, cannibals. Posh ones! Wealthy ones! Influential ones!
It's bloody bloody and fantastically distasteful...with an undercurrent of tongue-in-cheek humour running throughout. It's a case of: Will he, won't he...be eaten!?!
At the heart of this film is...a man so firmly in-the-closet, he will do absolutely anything to anyone who threatens to drag him out of his homo-haven. Cue: a cannibalistic battle of wits. His homosexual denial is a spectacular piece of writing and acting...brimming with chilling confidence, he places absolute terror into anyone who 'knows' his secret. And, someone 'knows' his secret...let the games begin!
With a short runtime of 81 minutes, Guto Parente packs an elephant into a suitcase. If you have the palate for distaste...this is a feast. There's no denying...cannibalism has never been so entertaining...what a strange thing to say about such a strange film! Loved it.
---
Thursday 18 October 2018...
The Favourite
Directed by Yorgos Lanthimos
Oooh you can just sink your teeth into this [right] royal lesbian romp.
Olivia Colman is perfect as the slightly goofy, off-the-rails Sapphic Queen...who picks and rejects those who lustily satify her carnal needs. She may even shock a few conservatives with her rather candid demands! She was simply born to play this part. Delicious.
Now for the favourite(s): Rachel Weisz and Emma Stone. Both have contrasting character arcs...from the defeated to the victor and vice versa...they are sneaky and snide...and, very, very bitchy. There's also Nicholas Hoult playing - with a sense of relish - the ultimate bewigged, floppy fop.
The script is inspired madness...with just enough touches of darkness and sadness to offset the absolute lunacy that unfolds. Weird camera angle, weirder lenses [especially fisheye] add to the weirdness. Obviously, Yorgos Lanthimos wanted to make the audience more voyeur than viewer...at times, the intrusion you feel is...[for want of a better word] awkward.
This is this director-of-the-bizarre's most commercial film so far - destined for a multitude of awards [Olivia Coleman may even get an Oscar nod]...but, just when you thought Mr Lanthimos throws an unsettling curve-ball...the ending. Rather dark, totally unfathomable, so unexpected...with, perhaps, a suggestion of a possible sequel...intriguing stuff.
Joyously titillating, gloriously entertaining, royally approved!

The White Crow
Directed by Ralph Fiennes
Talk about being underwhelmed!
Rudolph Nureyev was given 45 minutes - alone - in a room...to contemplate his future - to defect or not to defect. The enormity of that decision is completely lost in this mismanaged film. And, it all boils down to the writing...which is all over the place, with a scrambled timeline that simply confuses...one minute Nureyev has a broken leg in plaster, the next...he's bouncing around like a mad March bunny! Apart from the black & white flashbacks, there is no visible differentiation between the different stages of Nureyev's [earlier] life.
His homosexuality is [increduously] down-played, there's a brief bedroom scene with him in bed with a naked male 'friend' - however, the emphasis seems to be misplaced upon a clandestine relationship he had with his mentor's wife - the dynamics of this relationship are not explored, it was a very complex situation - the couple moved him into their home...alas, Mr Hare's writing only shows the surface of the story without digging deeper...rather than using Julie Kavanagh's biography, perhaps he ought to have spoken to more people [outwith the Ballet] who knew Mr Nureyev personally. A whole different story would emerge.
Way back in the late 80s, Mr Nureyev told me [yes, I'm making this uncharacteristically personal] that his sexuality was a compelling reason [though, not the only one] for his defection.
Ralph Fiennes is glum as Pushkin...perhaps, he realised he had landed himself a dud of a script. What he should have done, he didn't...there's a song: Rip it up and start again - that sums it up perfectly. As for Nureyev himself, Oleg Ivenko is a spectacular looking man, looks the part and plays him [most of the time] as a self-absorbed, pompous a-hole. There's no depth...Nureyev - at this time in his life - was in turmoil. Where was the turmoil?
Rudolph Nureyev was a remarkable talent...his memory deserves a far, far better film than this.
Bisbee '17
Directed by Robert Greene
The deep, historical divisions that [still] split a community.
This is no ordinary documentary, this is extraordinary. If ever there was a 'go-to' template for documentray making...then, Robert Greene has just ripped it up!
Historical re-enactments - at the best of times - are a rather strange phenomenon...usually, men dressing up in old military uniforms, running around a field with plastic guns, doused in fake blood for a wholly pointless reason. This re-enactment is catharsis.
What happened in Bisbee was nothing less than an extreme crime against humanity...in this day and age, these crimes are still being committed...by those in power, with money to burn...who degrade and destroy lives because of self-interest. It seems that there is no such thing as 'lessons learnt' - but, Bisbee is trying...this film must surely help.
Part documentary, part, drama, part re-enactment...the flow is seamless - held together by a character/resident/ghost who manages and appeases the tension and emotion. It is - quite literally - breath-taking stuff. Especially when the brothers find themselves - divided - on opposite sides of the fence.
Who knows if these divisions will ever heal...they most certainly will not be forgotten. As an experiment, it's fascinating [and mesmerising] to watch the effect it has upon people who see the 'event' from a different perspective.
As a film, Bisbee '17 is an un-missable experience. Powerful, unique and priceless...a stunning tribute to lessons learnt!
---
Friday 19 October 2018...
Can You Ever Forgive Me?
Directed by Marielle Heller
A career rejuvenated and a career move that will - undoubtedly - reap massive rewards...and, awards.
Richard E. Grant delivers his best performance since Withnail & I [31 years ago!] - and, it's just possible, he may even receive an Oscar nod for best supporting actor for his past-his-prime, amiable homo-with-a-deceitful-heart. Melissa McCarthy is - quids in - assured of a nomination! Stepping out and away from her usual [tiresome] comedy routine, she embodies the irascible, down-on-her-luck, lonely, unlikeable, cat-loving, gin-quaffing, lesbian author, Lee Israel - a real-life biographer who [infamously] forged hundreds of literary letters...to pay the bills.
Rather than being an out-and-out 'celebration' of criminality, of which it is somewhat guilty of... At its core, Can You Ever Forgive Me? is a friendship between two disparate and broken people...in the early Winter of their lives. Set in the early 90s, there is the ever-present darkest of clouds - AIDS - hanging over the city and over the characters. Jack Hock's impending tragedy is temporarily reprieved by the solace of Gin and an unlikely friend. On screen, together, Melissa McCarthy and Richard E. Grant are dynamite, bantering and bitching as they go...bringing a [most] welcome levity to the overall brooding atmosphere of these 'worst of times' - grubby times! Personal hygiene takes a backseat with these characters!

Ultimately, it's a sad film that doesn't play upon the heartstrings - perhaps, it should have, making it more commercially viable...but, to see two actors - at different stages of their careers - rise to the challenge of playing difficult, dowdy characters...is a privilege to watch. It is a fine film.

Mr. Soul!
Directed by Sam Pollard & Melissa Haizlip
Essential viewing...if you are studying American contemporary history, especially Black history. And, an essential tribute - and, overdue obituary - for a man who was a true visionary - a curator of the Arts.
Don't expect a warts-and-all exposé of Mr Haizlip's private life, he was a private gay man and the film respects that...perhaps, a little too much. Because...we really get to know nothing about the man himself. There is more to this man than what is shown: Being black, being gay, rubbing shoulders with nascent icons, living through those tumultuous years of the Vietnam war and the Civil Rights movement, Mr Haizlips's life is rich pickings. But, the filmmakers chose to focus - solely - on his relatively short-lived, massively influential TV programme: Soul!
This is a catalogue of those who appeared and soundbites from those who loved him. He challenged his audience and championed the lesser-appreciated artforms...he really did deserve a film that evoked the same kind of emotion that he managed to create...through careful curation.
Still, as an introduction to... and, a memory of...this multi-faceted man - it does a fine and respectful job.
---
Saturday 20 October 2018...

Assassination Nation
Directed by Sam Levinson
Well...this is certainly a man/boy-hating extravaganza...written and directed by a man! How peculiar! Nothing quite like jumping on the man-hating bandwagon to further destroy an already tarnished reputation. It's been a thoroughly bad year for men!
There is such a good, plausible and powerful idea behind this film - hacking cell-phones to expose all those X-rated selfies and videos to the general public! Kinks, infidelities and statutory rape are just some of the revelations...your placcid next-door-neighbour may not be as placcid as you have been led to believe!!!This town explodes...in a torrent of venegeful violence.
Unfortunately, the good idea gets lost in the tomfoolery. With a classic three act structure, Assassination Nation goes from the gimmicky, to the acceptable...to the downright ridiculous.
Issues concerning consent and privacy are present but not explored...instead, Sam Levinson takes his film down a less-satisfying route...it becomes more like a teen Charlie's Angels firing never-ending bullets...with - what seems to be - super-human strength.
The trans*character [played by a trans*actor, that should keep those armchair activists happy] has the most powerful scene in the film - woefully under-exploited by the director - a modern-day lynching...the true horror of this scene is lost amid the nonsensical mayhem. What's worse is her dialogue, does anyone actually say L.G.B.T.Q.I.A.+? She does and not just once!
Look, this film has an obvious demographic - teen girls - and has been pitched perfectly for them. This is the epitome of Girl Power! Teen boys with a penchant for teen girls - firing guns and beating up boys - in red plastic trench coats will probably get a little sweaty around the collar. So, for that demographic is succeeds...bizarrely, with its [well-deserved] 18 classification, they will not be able to see it...legally! Ooops!
For the rest of us, we will have to wait until someone takes the same idea and does something wholly terrifying with it...all it needs is imagination, foresight and intelligence!
A Private War
Directed by Matthew Heineman
A difficult film...in that, it's so close to home, too recent...too familiar and so, so tragic.
This is about absolute dedication...to uncover the truth - and, in so doing, it really has to be said - compromising your own safety and that of others! Harsh indeed. But, according to this film, Marie Colvin was a headstrong, uncompromising journalist who fearlessly entered war zones for the sake of a story, regardless of those safeties. The question that has to be asked: Is any job worth your life?
Now, we're not going to address the [problematic] agenda and [obvious] subjectivity of war correspondence in general...because, the film doesn't either.This is a fairly straightforward account of Ms Colvin's life-in-the-job, Rosamund Pike - seriously - lives the part, at no point does the plausibility slip. Our problem with the film...is the distance, in places, it's like watching a film about Marie Colvin made by an independent film unit. There's very little in the way of the personal, what really made her tick...!
Without a doubt, A Private War is quality production...about a mightily impressive and brave journalist. But, we all knew that already...it would have been an honour to get to know this remarkable woman [just] a bit better.
---
Sunday 21 October 2018...

Yours in Sisterhood
Directed by Irene Lusztig
As they say, never judge a book by its cover!
On paper, this sounds like a folly we all could do without...contemporary responses to 1970s feminism. Yawn! Well, on film...it is an utterly fascinating look at the maturing process. As we grow, our idealism evolves into something a little more realistic...experience is a great leveller of more extreme views. And, then again, experience may not affect that idealism...that's when regret starts to creep in.
This is a - surprisingly - emotional journey for both the participants and audience alike. Those of a certain age will reminisce, nod and be swept up by a wave of nostalgia. The younger generation should be encouraged to look inwards, with this here presented evidence...and, ask the most important question: Why is Feminism so unappealing for the majority of women? Yours in Sisterhood does not answer the question...it does, however, give clues as to why this state-of-affairs exist.
A thoroughly worthwhile and interesting project.

Support the Girls
Directed by Andrew Bujalski
A day in the life of a Sports Bar (with curves) manager...
This is Regina Hall's film, she breathes life into her character that should have taken Andrew Bujalski breath away. Personable, patient, warm-hearted, kind-hearted and diplomatic...that is...until. She is the epitome of the perfect employee...that is...until!
Expect the usual subjects in a bar of this ilk...but, with one standout, Lea DeLaria as Bobo. She - basically - plays herself, a woman loving lesbian...which she does very well [unsurprisingly]...but, when given such a crisp script, she flies off the screen.
As slight as it may seem, Support the Girls is a richly written story about loyalty and freindship, in and out of the workplace. Possibly, a slow-burning crowd-pleaser...it's a lovely little film that deserves a wider audience.
---
Films that we want to see...but, clashes, screeners have been requested...