BFI London Film Festival 2018...
By David Anderson Cutler
Here are the films we're going to see @ BFI London Film Festival...obviously, all subject to change!
---
Wednesday 10 October 2018...

Widows
Directed by Steve McQueen
From London to Chicago, these Widows have emigrated and been updated. No more a 1980s, UK TV drama series by Lynda La Plante...but, an adapted, big-budget, big-named, potential blockbuster...with the [obvious] potential to become a franchise!
These women all lived in the shadow and pockets of their now-deceased, [seriously] criminal husbands...all they left behind was...debt and grief. Who said crime pays?!? But, debts have to be paid...and, grief has to be dealt with - these women [duly] step up to the plate and knock it out of the park!
The frequent twists and turns will certainly keep the interest going throughout. The violence will make you flinch...as will the racism and sexism. And, it does gallop along at a furious pace...with a few stumbles here and there. There's an emotional, tragic and controversial subplot/backstory that could have been exploited more. But, Mr McQueen does not take his audience for granted nor does he spell everything out. There are gaps, there are loose-ends, there are quite a few unanswered questions. Some may regards these as flaws...or, some may think that Mr McQueen is teasing and tantalising for a prequel and a sequel...why start at the beginning when you can start in the middle?!?
Viola Davis is no shrinking violet, far from it, she carries the weight of the film on her rather impressive frame...with admirable support. Without a shadow of doubt, she could easily carry this story forwards and backwards.
Titillating stuff!!!
---
Thursday 11 October 2018...

Colette
Directed by Wash Westmoreland
Apart from one minor complaint...this a beautifully produced, directed and performed film!
The complaint is...the [obvious] transference [of - especially - pronouns] into today's liberalism [i.e. modernity]...into those long gone [wrought-iron] days...of puritanism...counter-balanced by that famed, golden-age of no-holes-barred hedonism [for those who could afford it]...or, is our complaint a legitimate one? This is an interpretation of those times...pinches of salt are required. And, let's face it, food without salt can be tasteless.
Colette is tasty! Well-seasoned. And, delicious...
We've all heard of those care-free days when eyebrows were seldom raised at some [very] eyebrow-raising 'situations' - even by today's standards...an on-stage lesbian/trans Cleopatra-infused with dubious production values...may raise eyebrows far and beyond the deepest of widow's peaks! But...Wash Westmoreland has embraced theaticality and thrown it into his film...without reserve. Good decision.
Dominic West plays it large and revels...aided by a script of Wildean wit. It is his film...that is, until Colette finds her feet and voice. Keira Knightley does coy and coquettish...as we all expect...well. But, Keira Knightley is no longer a girl...she is many a man's and many a woman's fantasy...and doesn't just she live up to [and relish in] the part! A seductress with little patience for [sexual] apathy...and, an unquenchable thirst for passion and prose.
Colette's story is intriguing...and, worthy of further exploration...she challenged the patriarchy, she lived openly with a tans*man. She was a woman of our times in those times! Our initial complaint...well...just, dismiss it! Sometimes...transference is just what the doctor ordered!
Without pioneers, humanity would never move forward. Colette was a pioneer. This film does her the justice she deserves.
Thank you Mr Westmoreland. Thank you Mr Glatzer.

Girl
By Lukas Dhont
Be still my breaking heart...
There has been a recent uproar - by [those] anonymous, gobby, armchair activists [who scream and shout at everything streaming on Netflix] - demanding a boycot of this film. Listen to them not! A trans*character does not need to be played by a trans*actor...the best 'actor' for the job should play the role. And, Lukas Dhont found the perfect actor in Victor Polster to play Lara.
Breathtaking is not a word we use regulary...but, breathtaking is what Victor Polster is! Lara says little throughout the film, she has so much on her young mind...the transition, the secret...and, the ballet. All punishing on the body, the mind and soul Can she keep it all together? Or, will she break? The entire film leads up to that question...the answer is...well, you will have to watch it to find out.
At times, there's a real sense of this being a fly-on-the-wall documentary...Lukas Dhont observes...and, it so immersive that at no time do you disbelieve anything that is shown. Gleaned from his short film, Girl is one mighty fine debut feature. Let us hope he has more [quality] projects up his sleeve!
To be overwhelmed by a film is a remarkable achievement...be overwhelmed!
Border / Gräns
Directed by Ali Abbasi
The less you know about this film...the better!
Watch with an open mind...as a tale of incredible cruelty, depravity and love-in-the-unlikeliest-of-places between an unlikely couple uniquely unfolds. They are not what they seem!
Ali Abbasi - basically - draws a very fuzzy line between man and monster. He mulls it over and presents a jaw-dropping treatise on humanity and plays with the whole concept that beauty is in the eye of the beholder and real beauty is within!
This is bold, challenging and daring cinema...in the wrong hands it could have disintegrated right before your very eyes...but, Eva Melander and Eero Milonoff deliver remarkable, grizzly performances.
It does have moments of extreme tenderness...but, on the whole, it's as unpleasant as can be...human depravity is an assault to the senses.
Here's a film that will touch all of your senses and make you think long and hard!
An un-missable achievement!
Happy New Year, Colin Burstead
Directed by Ben Wheatley
Every now and then, a director needs to unleash a pet project upon the general public...more often than not, they needn't have bothered. Ben Wheatley's [uncharacteristic] latest falls - jarringly - into that category. Think: Mike Leigh...without Mike Leigh's dexterity!
It's akin to watching a second-rate day-time soap [admittedly with better actors] about a thoroughly unpleasant and constantly bickering family. There is an uncomfortable feeling that floats around..are we [the audience] meant to laugh at this familial dysfunction? Because, none of it is actually funny!
This is a [mostly] improvised, ensemble piece - with all the weaknesses that [improvised] ensemble pieces [usually] have - the more interesting characters get a lost...Charles Dance's Uncle Bertie [every family has one!] and Richard Glover's [fallen from grace] Lord - sadly - fall victim. Doon Mackichan should have been exploited more...she, as the matriarch, is deliciously vile. All the other characters veer towards the incidental and/or are annoying, Asim Chaudhry does exactly the same play-it-for-cheap-laughs act as he did in Eaten by Lions - oops!

Filmed with hand-held cameras...with - quite often - a dizzying effect. It looks cheap...and, since Mr Wheatley has an envious and laudable reputation for producing slickety-slick films...you may feel rather cheated.
Mr Wheatley, glad you got this off your chest...now, stick to what you do best!
---
Friday 12 October 2018...

Sauvage
Directed by Camille Vidal-Naquet
You were made to be loved...
A staggering way to end a 'relationship' and, beyond measure, a staggeringly stabbing film. Félix Maritaud is - practically - never off-screen and there is a good reason...he is absolutely commanding as this hapless hooker hellbent on finding a love that goes by any name you want to call it.
Vulnerabilities abound around this young man...his tragedy is smeared across his face from the beginning. But...this is not - in the strictest sense of the word - a tragedy...as tragic as it is. There is one scene - in the doctor's surgery - that will simply take your breath away...and the director holds the moment long enough to let the tears flow freely, it's a heartbreak...as this young man's true loneliness and unavoidable immaturity comes to the surface...gasping for air. At 22, he's still a [failed] boy in a [beautiful] man's body...he has no backstory...but, he understands the power of beauty and youth...but, has no idea how to use it to his advantage. He is a statistic...wow...isn't that cold? But...Monsieur Maritaud's warmth will rouse the 'protector' in everyone who happens to encounter him!
Certainly, it's a graphic...it needs to be, to get the point across...and, it gets the point across - intolerably loud &  unpleasantly clear. Man's capacity to degrade and defile another human being is a difficult pill to swallow. However, the bitterest pill of them all is...a man's ability [and capacity] to consent to such degradation. This whole hideous reality is revealed in one of the most eye-watering scenes in cinematic history!
Camille Vidal-Naquet certainly puts across the idea that some [people] are meant to end up the way they end up....simply down to the fact that they wanted to end up that way! Most people think that prostitution is wrought from dire necessity rather than a free choice. Well, this film turns that notion on its head! Yes, prostitution can be a means-to-a-way-out, it can also be a means-of-living-for-the-moment!
Get an old man...he's told. But, being an idealist who neither wants to compromise his idea of love nor settle for a security in exchange for being him...on-call, on a leash. His sense of morality could tarnish the most moral.
Complex issues, a thumping soundtrack...and, with a virtuoso performance...Sauvage is a brutal depiction of an underclass. By no means is this an easy watch...but, it will pull at your heartstrings from every conceivable angle.
An astounding piece of work. Merci Messieurs Vidal-Naquet et Maritaud - a perfect example of a director's actor and an actor's director.

Make Me Up
Directed by Rachel Maclean
If Margaret Thatcher and Dr Frank'n'Furter had had a baby [oooh me Begonias have all gone limp]...then, this here drag queen...is the embodiment of that all-grown-up gobby bambino! She spouts, screams and screeches...repeat and repeat and repeat! **SPOILER ALERT** All this film amounts to is...killing a drag queen and a lesbian snog!
It's a caca-ophonous [sic], infuriatingly repetitive, definitely deafening diatribe...on feminisim! Rachel McLean is [no spoilers here] a [revolutionary...oooh me Begonias] feminist [one of those man-hating ones, if this is anything to go by]...what she fails to realise is...women are feminism's greatest adversary! And this film ain't gonna be helping the cause! Not because it's not commercial...but, because it is [cue: euphemism] not very good.
Everything in this film is borrowed (that's a [not an other one!] euphemism for stolen)...from Alice-in-Wonderland to The-Spice-Girls via Botticelli and Henry Moore...there are [many] others...too exhaustive to list. Who need originality when pilfering is so much less labour intensive?!?
Good grief...why do 'artists' think they can make a film? Too much public money went into this...the BBC & Creative Scotland should be held more responsible for their irresponsible spending...who in God's name gave this the greenlight and then signed the cheque!?! Sack them immediately!
As for Ms Maclean...do what you do best...ripping off Jules & Pierre! Who next: Gilbert & George?

On a more positive note...the make-up was goooood!

Knife+Heart / Un couteau dans le coeur
Directed by Yann Gonzalez
Review will come soon...awaiting screener!
---
Saturday 13 October 2018...

Beautiful Boy
Directed by Felix Van Groeningen
A father and son...not one of the easiest relationships, high expectations and footstep-following usually cause deep fractures. But, when a father's love for his son is intense and pure, the only way to save the relationship is to deliberately cause a deep fracture. Sharp intake of breath...fight back those tears!
Beautiful Boy is a beautiful film. No, it's not this generation's anti-drug film...it's not what the likes of Christiane F was...grubby, insanitary, insane, degrading...and, tragic. Here, a middle-class boy has a disease, it's called: Addiction. This is a message that the writers make lound & clear...addiction is a disease. Not some kind of hedonistic irresponsibility! If people only did what what David Sheff did, many more [young] lives would have been saved...and, still, could be saved.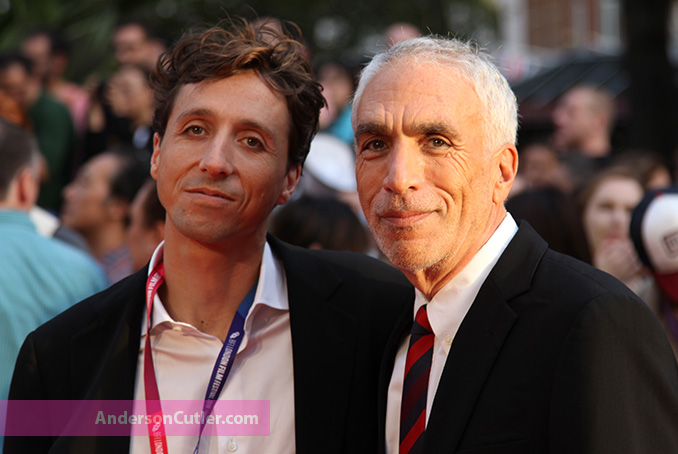 Beautiful Boy is an emotional rollecoaster...the on-screen relationship between Steve Carell & Timothée Chalamet has 'everything' that makes the award-givers sit up and take notice. This could have easily been a straightforward riches-to-rags story...but, the timeline has been mixed around with an astounding effect. Young Nic, carefree Nic, tormented Nic, addicted Nic are all juxtapositioned to maximise the gruelling toll that addiction demands..from both the addict and their family. Felix Van Groeningen may have more than a shoe-in for Mr Oscar!
Prepare yourself...Beautiful Boy will break and warm your heart at the same time. The sheer poignancy of the resonated as the real Father and son stepped onto the red carpet...
Respect, admiration and gratitude...to David and Nic Sheff for sharing their story.

Rafiki
Directed by Wanuri Kahiu
Hasn't this little film caused quite a stir...in Kenya. Banned, ban temporarily lifted...so that it could qualify for Mr Oscar [it needed a theatrical release]...and then, presumably, banned again! At the time of writing, Rafiki is Kenya's second most successful film. Any guesses as to what is the most successful?!?
A mighty congratulations must go to Wanuri Kahiu [& team]...for getting this made [in Kenya] in the first place. And, a thank you...it is an absolute delight of a film...with some particularly unpleasant moments. Rafiki is a plain-and-simple, run-of-the-mill love-story...between two young women in a religiously-littered, narrow-minded Kenya. So, the plain-and-simple ain't too plain and it - most definitely - ain't so simple.
Samantha Mugatsia & Sheila Munyiva are adorable as the young-in-love couple, their acting is both free and natural...oooh, you just want everything to work out for them. Wanuri Kahiu amplifies the depth of their feelings with very tight framing, the [many] close-ups really do invite you into their affection. So, when a film as affectionate as this is ruffles the feathers of the Kenyan Government...surely, the Kenyan Government should look inwards and ask itself some very serious questions!
A small film with a massive impact. Let us hope it gets the Oscar nod it deserves.

Won't You Be My Neighbor
Directed by Morgan Neville
Knowing absolutely nothing about Fred Rogers [that is, practically everyone outside of the USA], spending 2 hours in his company may seem like a hard ask...don't let it be.
What a surprise...Fred Rogers has a story to tell and this films tells it well...with all the highs and all the lows, the successes and the failures. So, sit back, relax...and, enjoy [to a point] and recoil at the insinuations...by the overly 'righteous' - about a genuinely decent and caring man.
He was a religious man. He did not discriminate...on any platform. He adored children. He seemed to understand children like no other [patronising] children's presenter then, now...or, whenever! And, he delighted and enlightened many a young life...
Won't You Be My Neighbor? is - and, shouldn't be - a sad film. A man's life's work has been, by some - for want of a better word - mutilated...by mere unfounded, ungrounded accusation. Morgan Neville has rectified the situation...
This is a fitting tribute to the man who, not only entertained...but, educated millions of children...most welcome...but, long overdue.
---
Sunday 14 October 2018...
Two Plains and a Fancy
Directed by Whitney Horn & Lev Kalman
What a motley crew: A witless dandy, a gibbering Geologist...and, a hapless hippy!

Dogman
Directed by Matteo Garrone
Some will argue...there's no such a thing as a dangerous dog, only dangerous owners!
Simone is a Pit-Bull of a man, everyone - in this depressed, dilapidated Italian coastal town - fear and avoid him. Except for one...the Dogman himself: Marcello, an animal lover, a small-time Cocaine dealer, a get-away driver...and, a doting father. He is a gentle soul.
For Marcello, there's no such a thing as a dangerous dog nor are there dangerous men. You've just got to know how to talk to them and how to treat them... you just gotta find their sweet-spot.
Apart from one off-screen act of animal cruelty, there is none to speak of, quite the opposite in fact...but, the amount of human cruelty is relentless. A genial soul is left in tatters...a monster-of-a-man maketh a monster-of-a-man!
Matteo Garrone manages to inject [visual] humour in the darkest of places...a corpse being bundled into the back of a van, only the handbrake is not on...opps. It's a visual gag - one of many - and they work a treat...as do the long pensive shots of a ruined man.
This is a complex film with a standout performance by Marcello Fonte, he will make you laugh, cry...but, above all, you will genuinely like him. It's a remarkable character arc...from the harmless, to the harmed, to the harmer - what a journey it is.
What a film...as unpleasant as it it...it is an absolute marvel!
---
Monday 15 October 2018...

Life Itself
Directed by
Dan Fogelman
From the creator of the exceptional This is Us, Dan Fogelman generously serves a great big dollop of his sharp-in-take-of-breath style of writing. He is a master of his craft...time and timelines are thrown to the wind, the effect is consecutive sharp-in-takes-of-breaths. For Life Itself have a box of hankies at hand...you'll need them, time and time again!
The film is about love...in all its beguiling shapes and forms and sizes. Two continents, two familes...too many tragedies. Oscar Isaac throws in a performance that could - quite easily - change the trajectory of his career...towards meatier roles and that - much-desired - Oscar nod! And, Laia Costa delivers a monolgue that will drain the very last tear out of your already tear-stained eyes!
But...the star of this show is Dan Fogelman - as distinctive and distinguished a writer as he is, he certainly knows how to weave a story from so many threads without leaving anything dangling. Strangely, this is only Mr Fogelman's second feature...everyone knows he can write a great story, with Life Itself he shows how well he can tell those stories.

Sharp intakes of breath, massive out-pouring of tears.

The Green Fog
Directed by Guy Maddin
Are you asleep?
Just when you thought you had seen the worst of the worst...the worst film comes along.
Guy Maddin's films are either hit or miss. This, wow, is so bizarre...in that...what a total waste of time and money. Reinterpreting Alfred Hitchock's Vertigo [why?]...through clips of American TV shows and films [all set in San Francisco]. What a pointless Herculean task!
Are you asleep?
Although tried...but, impossible due to the manic, ear-splitting soundtrack. But, all is not a complete waste of time...there is a quick little scene with Michael Douglas telling himself he ought to consider a career in showbusiness, it got a few laughs!
The experimentalists will love it. Editors will marvel at the amount of work that went into it...the hoi polloi will just be bamboozled.
---
Tuesday 16 October 2018...



---
Wednesday 17 October 2018...






---
Thursday 18 October 2018...





---
Friday 19 October 2018...




---
Saturday 20 October 2018...


---
Sunday 21 October 2018...

---
Films that we want to see...but, clashes, screeners have been requested...