BFI Flare 2019: Our [remote] Coverage...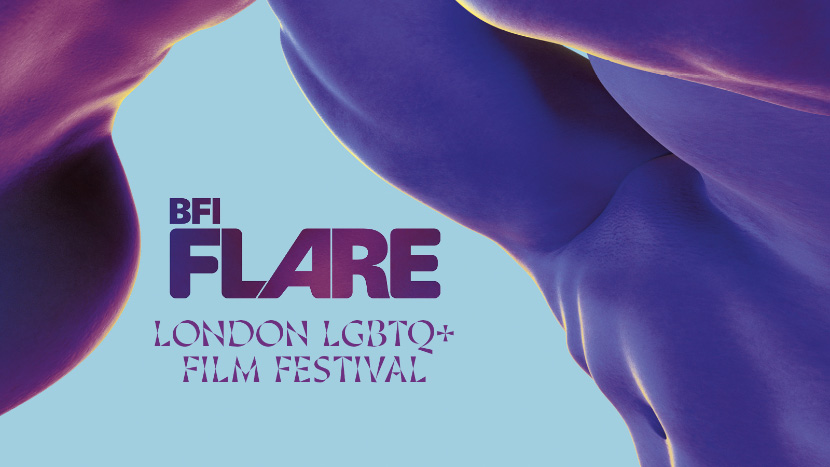 Yes...it's that time of the year: BFI:Flare has returned!!!
Sadly, regrettably and unavoidably...we are unable to be there in person...but, the good folks @BFIFlare have given us access to many a fine film...and, practically all of the shorts!
So...without further ado...let's get this [remote] party started...!

Day 1...
The opening night...and, by all accounts, everyone had a blisteringly good time!
Day 2...

Here's a film that defines the whole concept of the 'safe space' for LGBT folk. Why they were established, why they are [still] needed...and, why - seriously - are they being eroded!?!
This is a journey - often heartbreaking - from before the dawn of AIDS, through that maelstrom and into - what can be now considered - a brighter future. But, for those [of a certain age] the memories and pain [will always] linger. They share their stories...of brief histories and of a community that rallied...West Hollywood, we love you. You took care of your own when everyone else turned their backs...in a not-so quiet and barbaric disgust.
Indeed, times have changed...as Light in the Water so amply reveals...but, it's a bitter/sweet sort of change...some of it good, some of it not so. Every generation needs to make its mark...but, not at the expense of muffling the preceding generation! Older voices are being silenced, old ways are being dismantled...
The uber-sensitive politically-correct-inclined 'elite' scream and shout and stamp their feet whenever there is an instance of 'cultural appropriation' - many artist(e)s have felt their vehement wrath!
But...what about LGBT appropriation? Let's face it, in these connected and concocted times: It's chic to be LGBT - whether you are LGBT or not?!? Everyone's gonna be fluid! There goes the 'community', there goes all of those safe spaces!
Lis Bartlett's [mighty fine] film tells a history and asks some rather fiesty questions concerning the current buzz-word: Inclusivity. What was [once] a gay man's swimming club, became a gay & lesbian swim-club...which became, you see where we going with this...and now, a [very] significant percentage of its members identify as straight! There goes the neighbourhood!
If we keep on adding to the ridiculously contrived alphabet of...LGBTQQIP2SAA+*...why not just add an extra 'S' [for straight] and be done with the whole caboodle!?! Give us an 'I', give us an 'N', give us a 'C', 'L', 'U' - you see where we're going with this...!
Jings...never thought a film about a 'once upon a time there was a gay man's swimming club' would be so far reaching, would pack such mighty punches...and, most importantly...it certainly leaves you thinking [and, perhaps, reminiscing]...about the states of affairs, both then & now!
A rather brilliant, beautifully constructed film.

Girl
Directed by Lukas Dhont
Be still my breaking heart...
There has been a recent uproar - by [those] anonymous, gobby, armchair activists [who scream and shout at everything streaming on Netflix] - demanding a boycot of this film. Listen to them not! A trans*character does not need to be played by a trans*actor...the best 'actor' for the job should play the role. And, Lukas Dhont found the perfect actor in Victor Polster to play Lara.
Breathtaking is not a word we use regulary...but, breathtaking is what Victor Polster is! Lara says little throughout the film, she has so much on her young mind...the transition, the secret...and, the ballet. All punishing on the body, the mind and soul Can she keep it all together? Or, will she break? The entire film leads up to that question...the answer is...well, you will have to watch it to find out.
At times, there's a real sense of this being a fly-on-the-wall documentary...Lukas Dhont observes...and, it so immersive that at no time do you disbelieve anything that is shown. Gleaned from his short film, Girl is one mighty fine debut feature. Let us hope he has more [quality] projects up his sleeve!
To be overwhelmed by a film is a remarkable achievement...be overwhelmed!

Pre-sexual revolution of the 60s, setting: small-town Scotland...and, some Sapphic stirrings in the undergrowth. Oooh the scandal of it all!!!
Tell it to the Bees is a mixed bag of youthful loveliness and domestic trauma...with one major [and inexplicable] problem: The ending! Why change the perfectly good ending [of the book] into something so unsatisfactory and implausible?!? Or, perhaps, this man's mind is completely at a loss when it comes to the woman's psyche...and, the swarming instinct of bees!
Seriously, this is a lovely film that [sadly] asks [just a little] too much from its audience...when belief flies out of the window [and bees, literally, fly in]. Up until this point, the gentleness of the story is a delight, young Gregor Selkirk is a joy to watch as he confronts and computes the harsh realities of life. Anna Paquin and Holliday Grainger, they do the story proud. There is so much to commend this film...however, when the 'fantasy' hits the fan...aaargh! It's so frustrating, tripping before the last hurdle...it all boils down to...the bees had one scene too many!

Lizzie
Directed by Craig William Macneill
The enduring tale of Lizzie Borden...gets overhauled, yet again! How many times can this tale be told? Countless, it would seem.
For those unacquainted with Lizzie...well, over a hundred years ago, Lizzie was put on trial for the murders of her [rather wealthy] father and step-mother. She was acquitted!
This Lizzie is a total and mindless fabrication of the facts...making out that Lizzie - unequivocally - did do the murders due to being 'discovered' - en flagrante - in a lesbian tryst with her maid...who was her incompetent accomplice in the crime...but, a competent witness in aiding and abetting her actual acquittal.
The question has to be asked: Why is the Lizzie Borden story so enduring? Legally, it highlights the 'irregularities' within the judicial system. It also gives an insight into the inadmissibility of evidence and the competence to testify...as well as highlighting the well-defined route of probate...and, the oldest of legal chestnuts, the jury's [and the public's] ability to subjectively pre-judge. Where's that good old-fashioned objectivity when you [legally] need it!?! Many an accused has been 'saved' due to the lack of it! Legally, it's a fascinating case.
Sadly, this film is not...for it does not concern itself wholly with the trial. Instead, it relies on strings of sapphic invention that get [all] knotted up within an inexplicably muddled time-line. Craig William Macneill's cinematic pace is too slow to start and too quick too finish...and, with a middle that stumbles all over the place.
Now, the whole Lizzie-was-a-lezzie theory is not new...Ed McBain dreamt up this little peach way back in 1984...so, Bryce Kass' screenplay is a shining example of brazen plagiarism. Or, to be politely euphemistic, he borrowed the idea...but, failed to make his script as brazen as it had the potential to be...even with those [eccentric] lines infused with some neo-feminist chic!
Chloe Sevigny, Kristen Stewart and Fiona Shaw all convince. Even the cinematographer convinces. Such a shame that neither director nor writer could do a similar [good] job.

Leitis in Waiting
Directed by Dean Hamer & Joe Wilson

---
Wildfire by Bretten Hannam
Transmission by Emily Mkrtichian & Anahid Yahjian
Masks by Mahaliyah Ayla O
---
Day 3...






Day 4...


Day 5...



Day 6...



Day 7...




Day 8...


Day 9...



Day 10...



Day 11...

---