Edinburgh International Film Festival 2017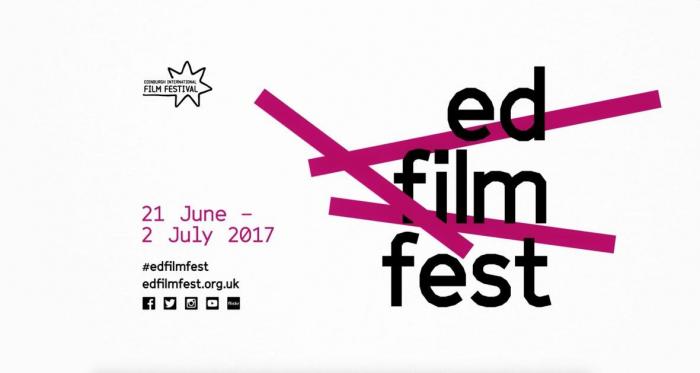 Oh joy be upon us...here we are at the 71st Edinburgh International Film Festival 2017...
We'll be covering as many films as we possibly can...and, we'll throw in a few shorts too!
The big news - this year - is the opening film: God's Own Country, directed by Francis Lee...for a mainstream film festival like Edinburgh to show an unashamedly 'gay' film as its opening gala will - no doubt - raise a few eyebrows. Our eyebrows are doing somersaults!
It's definitely a sign of our much-improved times! And, although we don't know much about the closing film, England is Mine, directed by Mark Gill...considering it's a portrait of Steven Patrick Morrissey, surely there will be a soupçon of subtext...! We shall wait and see/watch! Edinburgh has - most definitely - become the leading light in LGBT-friendly, mainstream film festivals. For that we applaud and thank you.
---
Without further ado...onto the films...below are the films we've selected. Without a doubt, others will be added as we gobble up recommendations faster than we can devour a packet of those delicious 'Sausage & Tomato' crisps...are they available anywhere other than Scotland?!?
We will be reviewing the films as we see them, Edinburgh gives the press ample opportunities to see as many films as possible...there are the press screening, the videoteque (a dark room full of computers!) and the public screenings! 
Reviews, featured on this page, will be short, succinct and devilishly informative...if the film is in our main database, a more verbose review will appear (in time)...just click on the poster and you will be taken to that page...but, please, be patient...we are running around like headless chickens...the full review will take a wee bit of time to appear!
For those of you who asked...we only tweet the films we liked/loved/adored...the others, well...those are [still] the pride and joy of their filmmakers & company...hours of hardship went into their making...they might not float our boat...but, we ain't gonna sink theirs! At least...not during the festival!
---
Day 1...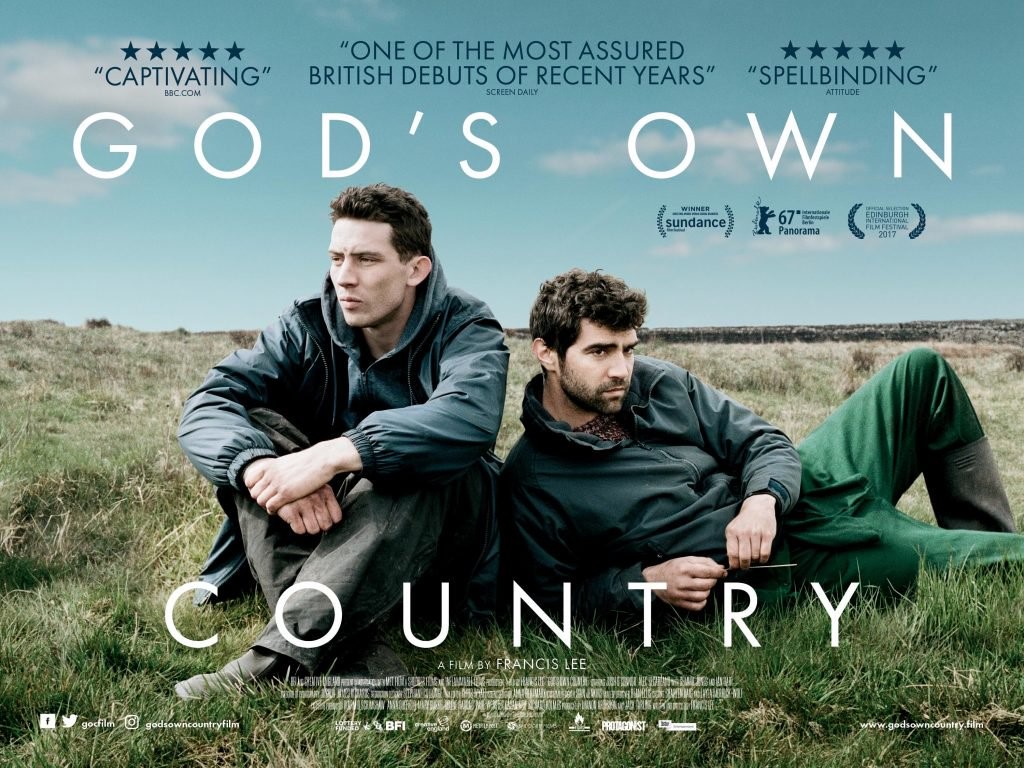 The rain stayed away for the red carpet...the celebs arrived, were duly photographed and after many double-cheek(y) kisses, settled into their seats. The customary opening speech...director and cast were introduced...the lights dimmed [as they do] and the opening film of the 71st Edinburgh International Film Festival began. 
---
God's Own Country:
Directed by Francis Lee
Yes, yes, yes...we've heard all about this being the British 'Brokeback' - sheep farmers in the wilderness! But, this is so much more! 
It's raw and relatable. It's rural and real. It screams...love can be found in the remotest of places!
Bleak...most definitely. Heart-warming...the cockles of your heart will be on fire! Wanna see chemistry on-screen? This is a reaction like no other!
A deft, detailed, delicious triumph! Thank you Mr Lee, for sharing.
---
And now...it's time for the party!!! Heaven opened (not the one in London)...when it comes to rain, Scotland never disappoints! It's bouncing off of the cobbles!
I have died and gone to Heaven (not the one in London...but, this one will do just fine)...Gin bars everywhere!!! Reviews may be somewhat delayed....
---
Day 2...
Brother Jakob:
Directed by Eli Roland Sachs
Ooooh Gawd...oops, that should be Allah! 
This little prig changes his religion as often as he changes his knickers. Made by his brother, Jakob has absolutely nothing - worthwhile - to say. Yet, his brother insists on letting him spout on and on about his [temporary] beliefs! The urge to walk out was overwhelming...yet, I resisted. The urge to fall asleep...especially after all that Gin...to be honest, a few 'noddy' moments were to be had!
A film about a self-centred, dangerous boy (who ought to be in intensive therapy)...that needn't have been made, not only because it was excruciatingly boring...but, because...the film and Jakob are contemptible on so many levels! Disrespectful to a religion!
---
Raid Dingue (R.A.I.D. Special Unit):
Directed by Dany Boon
French farce is an acquired taste...it's like Marmite. I hate Marmite.
But...Alice Pol delivers a fine comedic performance. It's almost like watching an updated Private Benjamin...albeit, in French, transposed to the police and - sadly - falls apart halfway through!
There's a gay pride march, a couple of villainous transvestites...and, a damn fine firework display. Alice Pol makes it...unfortunately, the script breaks it!
---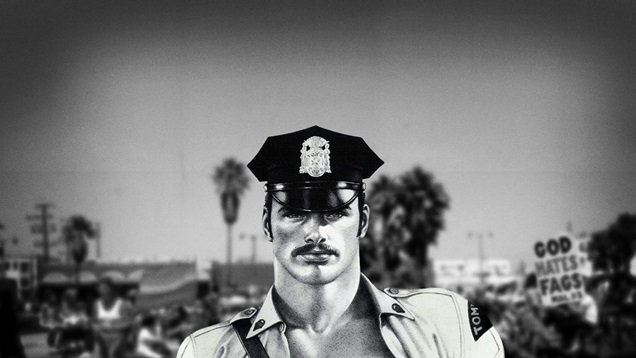 Tom of Finland:
Directed by Dome Karukoski
Not being a fan of 'Tom of Finland' - this film was approached with a detectable amount of trepidation. Never pre-judge a film!
Seriously...this is not the film (nor a story) that was expected. It's been said - before - about an other film [see above]...this is so, so much more!
The colour palette is art. The insight is a revelation. His influence is indisputable. As for the backlash...a sad sign-of-those-tumultuous-tragic-times. This film is a remedy...
This film gives Touko Laaksonen a legacy...and, a legitimate, well-earned place in LGBT history.
---
Day 3...
Final Portrait:
Directed by Stanley Tucci
Do a little research on James Lord beforehand...it will help understand the nuance of Armie Hammer's performance. Lord's homosexuality is subdued...almost to the point of invisibility...apart from one line, to paraphrase: I was getting excited... until I knew you were a woman!
By stark contrast, there is nothing subdued about Geoffrey Rush...as the chain-smoking, madcap, Giacometti. It's a safe bet to wager...Mr Rush will be collecting a few notable awards for the cantankerous charisma he bestows upon the artist. Deservedly so!
With an exceptional colour palette, Final Portrait is a visual feast...as you would expect for an 'art film' - our only gripe, the constantly moving camera! To be fair, in a post-film chat with a fellow reviewer who 'liked' the camera's movement...I stand firm: Art is static, the movement (and magic) are contained within the frame...that's what makes it art! No doubt, a discussion that will rage on...
A fine, fine film nonetheless.
---
Okja:
Directed by Bong Joon Ho
A kid's film about a super pig, genetically bred to feed the starving populace?!? It most certainly is not!
This is a cinematic smörgåsbord...it's like going to the finest Tapas Bar and ordering everything on the menu!
Heart-stopping, jaw-dropping, breath-taking, side-splitting, eye-watering, toe-curling cinema!!!
Annie's Song!?! Totally bizarre and genius.
We can enthuse no more...do yourself a favour...watch!
---
Song to Song:
Directed by Terrence Malick
Hold onto your hats, babies...this ain't gonna be pretty! Ever heard the one about the Emperor and some new clothes?!? Well, that's what we think about Mr Malick...
Packed to the rafters with crowd-pulling A-listers...you can almost hear the audible, collective contempt as the entrance-paying audiences around the world realise that they have been conned out of their hard-earned cash and stripped of 129 precious minutes of their lives...for this!!!
Obviously improvised from start to finish, Mr Malick gives himself a writing credit...cue: Howls of ridicule and laughter. Well, Mr Malick if your filmmaking career ever goes tits up (as it should, if there is any justice in the filmmaking world)...rest assured, Hallmark cards will give you a job. You show an exemplary ability as a writer of [cringe-worthy] cheese.
Patti Smith, as much as we love you...it's time to wash! And, what the hell are you doing in this film? The same goes for Iggy and Rotten! And on that note...moving on...
---
Day 4...
Here are four films that deal with teenage sexuality...with varying degrees of success.
Freak Show:
Directed by Trudie Styler
This will certainly polarise opinion...young Mr Lawther gives a [damn fine] credible performance...but, as a rich-kid with gender identity issues and a penchant for camping it up [at every conceivable opportunity]...the audience may not [or may] get entirely behind him...at first. But...be patient, he does grow on you...amid the diamante and darkness. It's that...I'd-rather-be-sexually-confused-in-my-mansion-than-in-a-homeless-hostel kind-of-thing! Struggling heirs elicit little empathy! Mr Lawther does a remarkable job...in shifting that opinion!
Now, it has to be said...Bette Midler is tragically [and mind-bogglingly] under-used...she and Mr Lawther could have easily presented a little cabaret performance [in the mansion] for our delectation and titillation...alas, no...although the script was crying out for it! The director, perhaps, was not in-tune with the audience. It's Bette Midler for Christ's sake...you got her...use her! She ain't cheap!
Freak Show embraces and celebrates individuality and diversity. Despite our 'quibbly moanings', it's a great little film. It delivers the finest of messages...live and let live...all the world's a stage...I am what I am...
...if only the same could be said for our next film...a film we were looking so forward to...
---
EMO: The Musical:
Directed by Neil Triffett
First and foremost, we LOVED the short film.
Second...not all good shorts deserve to become a feature...especially when the writer/director doesn't have the material to fill the allocated time!
Look...there's absolutely no point in crucifying this film [it does that all by itself]...unlike Freak Show...this film delivers a message so contemptible [it hurts!]...conform to the norm! WTF...it ends up being a pro-Christian, happy-clappy assault to the senses. ..the EMO ditches his mascara and everyone ends up singing...apart from the gay kid?!? WTF! Not, what we suspect was...the director's intention...because, babycakes, it does come over a trifle homophobic! WTF! 
---
Bad Kids of Crestview Academy:
Directed by Ben Browder
Remember Farscape...the face of...Ben Browder...well, this is his directorial debut...and, here end-eth that directorial career.
When will filmmakers accept the simple fact that you cannot make a cult film...the audience makes a film...cult!
There is a line in this catastrophe: This should be good - oops.
Quite easily, the worst film in the festival [thus far]...it even surpasses all that experimental poop!
---
Goodbye Berlin [Tschick]:
Directed by Fatih Akin
There is a God!!!
And, there is Fatih Akin...who made the astounding Auf Der Anderen Seite...
We're not going to say too much about this fine film...because, it would ruin it.
Anand Batbileg is a revelation...he lights up the screen, even when vomiting...and, Tristan Göbel compliments this little duo beautifully.
Sit back, relax and enjoy...a lovely, lovely film.
---
Day 5...Experimental Sunday...
A Heart of Love [Serce Milosci]:
Directed by Lukasz Ronduda 
A couple of performance artists are facing a crisis in their relationship...
The performance artist underworld is an unfathomable place for the uninvited/uninterested. Despite some striking imagery and some truly cacophonous music, Mr Ronduda's invitation to be a voyeur will only appeal to those who are unfathomable and connoisseurs of some truly cacophonous music!
Lost on us!
---
When We Were Wild [Una Vez Fuimos Salvajes]:
Directed by Carmen Bellas
There's nothing wild about this film...in fact, there's absolutely nothing to this film.
It's merely an exercise in point-and-shoot whatever appears in front of the camera by a director who - obviously - forgot to say 'CUT'!
This is not a documentary...there's no artistry, no composition, no revelation. Nada!
It's a film festival, we expect and accept these little blunders!
---
Land of Not Knowing:
Directed by Steve Sanguedolce
Suicide is like a mirror...
Yeah...it's not the cheeriest of films...
Suicidal contemplations accompanied by random, splattered images.
Dare we repeat ourselves: It's a film festival, we expect and accept these little cinematic challenges! 
---
Day 6...
My Entire High School Sinking Into the Sea:
Directed by Dash Shaw
We were asked how we pick the films that go into this review...considering Edinburgh offers a multitude of cinematic delights, it's a good question to ask!
Obviously, anything with LGBT content goes in, anything we suspect that may have LGBT content (and, let's face it, most films nowadays seem to have a snifter of LGBT content somewhere between the opening and closing credits) and, to be truthful, just about anything that tickles our fancy. Attached names is a 'biggy' too...this film features the voices of Susan Sarandon and John Cameron Mitchell. Of course we're gonna watch this!
What a mistake...it looks like a work-in-progress that should progress no further! The animation is awful, the story (think Poseidon!) is nonsense...big voices don't necessarily make bad films good! We rest our case!
---
Vampire Cleanup Department [Gao Geung Jing Dou Fu]:
Directed by Sin-Hang Chiu & Pak-Wing Yan
This is going to be quick...
When the old [bag] lady popped out of the box and the student delegation (in the audience) laughed uncontrollably...we walked out. Wasting a mere 7 minutes of our time.
Most definitely, not our cup-of-tea.
---
A Wedding [Noces]:
Directed by Stephan Streker 
When the end credits started to roll...no-one moved, not a sound was heard.
When that happens...you know that you have just made a deeply affecting film...especially when it's a press screening!
It starts in a dark place...a young Muslim girl discusses abortion with a health care professional. The issues that this film addresses would raze the mightiest roof. From a Skype wedding to hymen reconstruction...this film goes where few [if any] have gone before.
In the current climate...this is bold, brave, dangerous filmmaking. This is what cinema is all about! We thank you.
---
Day 7...

Operation Mekong [Mei Gong he xing dong]:
Directed by Dante Lam
140 minutes of pure adrenalin...
China is - rapidly - proving that it can give Hollywood a run for its money...and some!
Unlike the Hollywood obligation to include inane sentimentality into its action movies...this has none. Okay, it's not perfect...it does have the villain coming across as a caricature...but, hey, if it works for Hollywood...
The body count is uncountable...the editing, cinematography...top notch. It's a rollercoaster ride...with a few glitches. Hollywood must be worried!
---
Attraction [Prityazhenie]:
Directed by Fedor Bondarchuk
Russia is - rapidly - proving that it can give Hollywood a run for its money...
The SFX are pretty damn impressive...and, the score! A swelling beauty!
Admittedly, this does tick all the 'young adult' boxes...and, seemingly, the 'young adults' of Russia flocked to the cinemas to watch it!
Considering it was made in [dictator] Putin's Russia...it delivers some incredible [and risqué] messages...it's anti-war, there's a gay kid, government defiance...and, it's damn fine entertainment to boot!
---
The Little Hours:
Directed by Jeff Baena
Film festivals deliver surprises, delights, disappointments and the downright awful...this is a sweet, sweet surprise. Foul-mouthed, frisky nuns with a soupcon of the demonic!
Pasolini & Boccaccio must be turning somersaults in their graves...the irreverence [of the source material] is a f**king revelation!
We loved it! To be honest...it could have gone so much further...but, alas, ratings dictate!
---
Just Charlie:
Directed by Rebekah Fortune
This is hard...we wanted - so much - to take this film into our hearts. Alas, it merely scratched at the surface...and, sadly, left no lasting impression.
The only insight...puberty blockers! Mentioned briefly, unexplained...and that was it for the complexity of the complexity of transition. Why use the footballing metaphor?!? Too damn obvious...the inference could be construed as a little insulting... football star of the future gives it all up to wear a dress...that's how it comes across!!! Just a little bit too tabloid.
The transition was done via [hideous] hairbands [is that what you call them?!?] and some grubby-looking cardigans. She's a young woman...dress her as if she's a young woman!!! Why make her look so dowdy?!?  Disappointing...so, so disappointing.
---
Day 8...
I Dream in Another Language [Sueño en otro idioma]:
Directed by Ernesto Contreras
Just when you least expect it...a magical little film pops up and - quite literally - takes your breath away. There are moments when you will gasp, cry, laugh and scream at the screen...in frustration...as this stubborn old bugger remains a stubborn old bugger.
It's a beautiful looking film. It's original. It's intelligent...it's everything you want from a film. It is - without a doubt - our best of the fest!
---
Double Date:
Directed by Benjamin Barfoot
Bloody marvellous!
The snappiest of scripts...two actors born to bounce off of each other, a pace that never lets up and a thumping soundtrack.
Rest assured...British independent filmmaking is alive and well and kicking...the talent - on both sides of the camera - is plain to see.
---
Rage:
Directed by Sang-il Lee
Way too long with not enough rage!
After a strong start, it fizzles out rather rapidly...it's a bit of a chore to get to the end!
There are three distinct storylines/suspects...one could have easily been cut, our preference would have been the 'Daddy's Girl' - she's so annoying - but, to be honest, any one could have gone...thereby ensuring a tighter, more intriguing film.
---
Strange Weather:
Directed by Katherine Dieckmann
Holly Hunter plays Holly Hunter...as a tough-nut, non-conforming, grieving mother...and, to a certain degree, she pulls it off.
Now, there is actually a built-in ending that would have made this film fly into the stratosphere...instead, and [in our humble opinion] erroneously, Katherine Dieckmann chose to go down the safer route...what could have been a mighty statement on the individuality of grief and the grieving process...became a rather diluted affair.
Oooooh the potential to have a collective jaw-drop was there...if only...!
---
Day 9...
That Good Night:
Directed by Eric Styles
Lesson 1 - when adapting a stage play for the big screen...bring something new to the table.
Lesson 2 - when directing a stage play for the big screen...do not direct it as if it were a stage play.
Lesson 3 - stage acting does not transfer [well] onto the big screen...a couple of actors needed solid [film] direction.
Eric Styles ignored all these lessons...resulting in a badly-blocked, wooden film.
---
Kaleidoscope:
Directed by Rupert Jones
The blurb basically ruins the film...this is a [dowdy, as in the dowdiest] modern-day Psycho...!
Where Psycho - in it's time - delivered a real shocker of a climax. Kaleidoscope is a mind-boggling trek through a shattered timeline...it's all over the place! You never know where you are from one minute to the next.
As much as we love Toby Jones and Anne Reid...you will feel nothing for their on-screen personas. By the end...well, we all know the end of Psycho...this 'end' was a major anti-climax.
---
Becoming Cary Grant:
Directed by Mark Kidel
An affectionate film...indeed, [selectively] informative...with a rather erratic timeline.
But...what about that great big elephant - dressed in a tutu - standing on one leg in the middle of the room whistling Dixie?!?
Cary Grant lived with a man for years...not a mention. You can almost hear - his daughter - Jennifer's demands for her appearance/endorsement...do NOT mention Randolph Scott! The LSD is fine! If Scott's in, I'm out!
A biography with great big chunks missing!
---
Access All Areas:
Directed by Bryn Higgins
One for the kiddies...or, rather, young adults...not quite sure to be honest. It's a film that forgot to target an audience...if you're gonna go for wide appeal...make sure the film has wide appeal. Oooops.
This is Glee versus High School Musical on scooters...too silly to be taken seriously, too cheesy to appeal to the YAs...not enough toe-tapping songs for the kiddies.
Interesting to see how it will do at the box office...we may have gotten it completely wrong! 
---
Day 10...
Story of a Girl:
Directed by Kyra Sedgwick
It's a made-for-TV movie that packs one hell of a punch...and, it all hinges on one jaw-dropping revelation - where sympathies switch in a moment...It's almost like witnessing a paradigm shift!
Kevin Bacon's gay pizza-parlour-proprietor gets a little lost amid the hormones...but, he does supply a voice of reason (and some star-quality) to this directorial debut by his wife. Kyra Sedgwick has made a wise choice by starting small and delivering a rather significant emotional wallop. Impressive, to say the least.
---
The Marker:
Directed by Justin Edgar
UK independent filmmaking does not come any better than this little under-publicised surprise!
Tense...to say the least. Dark...as in the depths of night. Surely, big things will beckon for Frederick Schmidt, his intensity is mesmerising.
But...the star of the show has to be Justin Edgar's direction...crisp, clean, precise. All those close-ups...perfectly matches the prevailing menace that runs throughout, it never lets up. Seriously...edge-of-the-seat stuff!
---
The Dark Mile:
Directed by Gary Love
What happened? Did the money run out? Did the ideas dry up? Because...just when the spookiness starts, it ends!
Look...the Scottish tourist board ain't gonna be liking this mismanaged affair...there's no friendly Scottish folk to be found anywhere...and, that tartan 'tammie' with ginger trim...not a good idea. Alas, the film was devoid of good ideas!
Sheila Hancock's accent...what was she thinking...that accent, this film...did she just happen to be in the neighbourhood filming Edie at the time?!? Quids in...quid pro quo!
---
In Dubious Battle:
Directed by James Franco
James, James, James, James...you've done the commercial, you've done art-house, you've been 'gay' so often that Rupaul is considering having you on the next Drag Race!
Look...the problem is rather simple...few actor-cum-directors can direct themselves...Mr Franco, despite a fine cast and a damn fine story, an ego got in the way of the story-telling!
In future, it would be prudent to do one thing or the other...preferably, the other! 
---
Day 11...

The Erlprince [Królewicz Olch]:
Directed by Kuba Czekaj
Sci-fi...perhaps the most difficult genre to do on a tight budget. Often...an overly-fertile imagination can compensate for the monetary restrictions...alas, not the case here.
That imagination goes somewhat awry and travels down many pretentious-lined boulevards...the singing preacher will have you slapping your forehead, the lesbian-infused, mud-wresting scene serves merely to bamboozle. Do we feel anything for the character(s) facing the apocalypse? Not a jot!
---
The Midwife [Sage Femme]:
Directed by Martin Provost
Basically, this is a two-hander with Catherine Deneuve in the driving seat. The supporting cast needn't have bothered...they bring nothing to the table. All eyes are on Ms Deneuve...alas, not enough camera-time was spent on her.
It's a film that could have been so much more than it is...Monsieur Provost chose to underplay the sentimentality...what it needed was a great big dollop of the stuff...to get the waterworks flowing.
It's a devastatingly sad story of a life led with regrets, let the audience feel those regrets!
---
Menashe:
Directed by Joshua Z Weinstein
Few films have ever dealt with the Hasidic community...so, this is a welcome insight...what a miserable bunch they are!
Individuality is an absolute no-no...conform or be cast out! So, for poor Menashe - a bit of a bumbler, a bit of a free spirit - life ain't too sweet. 
It's a low-budget film and - in places - it certainly shows...but, Menashe Lustig gives a credible performance that carries the film to its - somewhat - predictable ending. Not the greatest film ever made...but, not bad.
---
Romans:
Directed by Ludwig Shammasian & Paul Shammasian 
Do not expect the usual catholic-bashing, priest-abusing exposé that we have all become [too] familiar with in recent years...this is so much more...this gets under the skin, into the psyche...of the victim. As for the perpetrator...few words are spoken, none in defence...his self-loathing and the hate you feel for this man-of-the-cloth are spine-chillingly palpable.
Most assuredly, Orlando Bloom has cast off his elven mantle...he delivers a performance of such magnitude and dimension that - at times - your breath will simply be taken away. He makes you feel his...pain!
Everything is assured about this film...the direction, the writing...but, this Mr Bloom's film. A dark, intensely harrowing experience.
---
Day 12...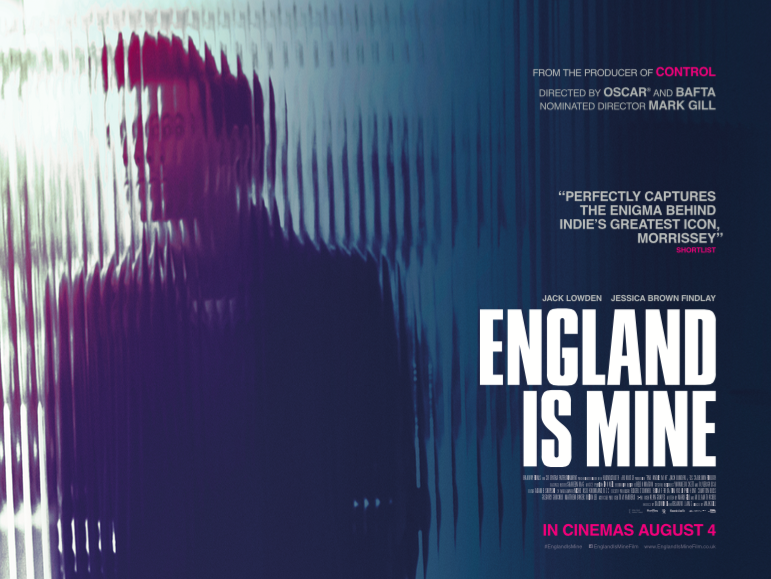 England is Mine:
Directed by Mark Gill
The problem is...why make an unauthorised bio-pic in the first place? Without the endorsement of the eponymous [should that be, miserable] man himself...factual accuracy becomes a great big gladioli-waving elephant-in-the-room!
Fans of The Smiths will be bitterly disappointed...not a Smiths tune to be heard! Because...this is about Steven pre-Smiths. And, what a dreary young man he was...no wonder Morrissey didn't endorse...the boy - in the film - is a self-centred, prissy little prick! His depression...Jesus H. Christ...if everyone went into a debilitating downward spiral every time they got rejected for a job, the world would - quite literally - stop spinning. As for his self-proclaimed genius...and, there are those who do think he was/is/will be...well, we'll take a rain-check on that particular assumption! The film proffers no evidence.
It's not a bad film per se...it's just a film that ends where it ought to have begun...it does help if you are a dedicated follower of the eponymous [non-fictional] one! Ooooh you can hear all that idolatry crashing to the floor...incredulity smeared across the faces of the disciples...when they realise Mr Iscariot is alive and [well] making bio-pics...[according to this version of events] Steven pre-Morrissey was a prick who worked for the inland revenue! What a rebel!!!
Treason! Sacrilege! Slaughter the director!
As for the sequel?!? Exits cinema, howling with laughter!
What a way to end a festival...
And that folks...is it...thank you Edinburgh:)