Director: Petter Ringbom
Writer: Petter Ringbom
Producer: Christophe Charlier; Alysa Nahmias
CGiii Comment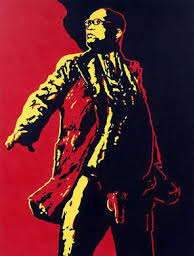 Freedom of expression and the power of art...
South Africa - now - faces State censorship, State corruption...this State flails under a leadership that is both decadent and dictatorial.
Mr Zuma does not like to be exposed...in public.
South African artists are fighting...painting, photographing, singing and dancing to expose these post-apartheid  inequalities - yes, the rest of the world practically ignores South Africa...the Queen even entertains Zuma at her dinner table.
These artists have a kindness, a mission, a purpose, a collective strength...this film does them the justice they deserve.
Fine, fine work.
---
Trailer...
Shield and Spear Trailer from Petter Ringbom on Vimeo.
The(ir) Blurb...
An artist paints a caricature of South African president Jacob Zuma that provokes a lawsuit, death threats and a massive street protest. Around this incident, Shield and Spear explores a constellation of stories about identity, art, race, and freedom of expression in South Africa, twenty years into democracy.
Cast & Characters
Zanele Muholi as Himself;
Hunter Kennedy as Himself;
Francois van Coke as Himself;
Iman Rappetti as Herself;
Ferial Haffajee as Himself;
Xander Ferreira as Himself;
Brett Murray as Himself;
Jaco van Schalkwyk as Himself;
Yolanda Fyrus as Herself;
Spoek Mathambo as Himself
Due to the massive amounts of spam we receive, the comments section is curated...so, no spam, no swearing, nothing unrelated to the film...they just won't be published! Time is precious, let's not waste it!