QUEER LION AWARD 2020...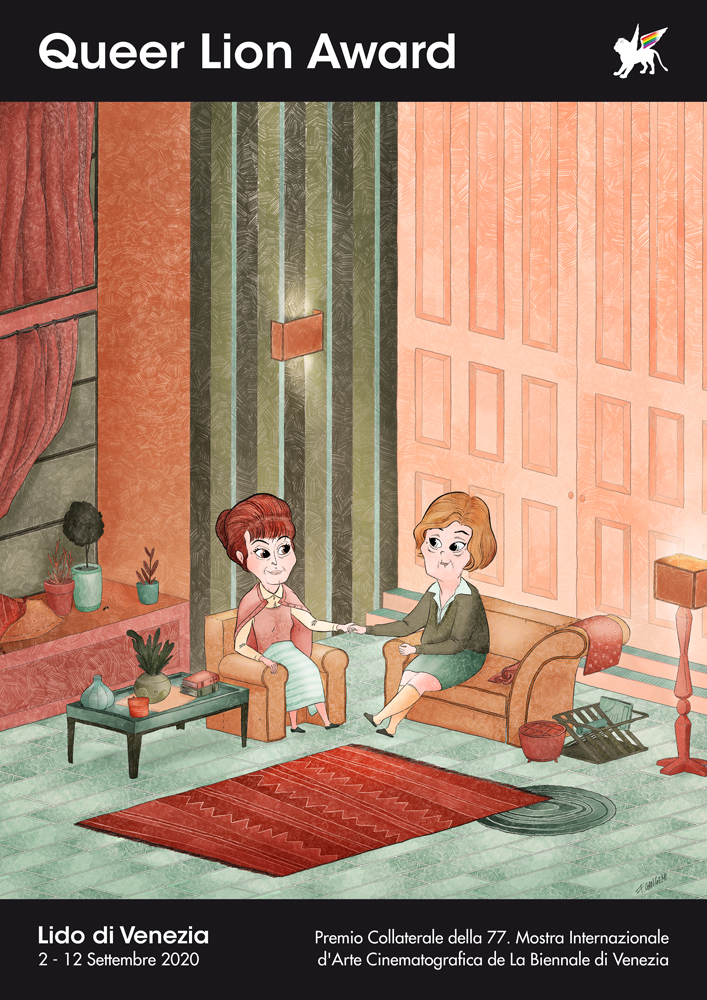 And the nominations are:
The World to Come by Mona Fastvold (Usa, 98', 2020)
Cast: Katherine Waterston, Vanessa Kirby, Christopher Abbott, Casey Affleck
1850: in a farm in the State of  New York, Abigail and Dyer just lost their only daughter to diphtheria. Still grieving, Abigail meets Tally and her husband Finney, her new neighbors. The two women thus form an increasing bond of intimacy and passionate devotion. Once their husbands start to understand the intensity and nature of their relationship, the situation soon gets out of control.
Presented in Venezia 77
Śniegu już nigdy nie będzie (Never Gonna Snow Again) by Małgorzata Szumowska, Michał Englert (Poland, Germany, 113', 2020)
Cast: Alec Utgoff, Maja Ostaszewska, Agata Kulesza, Weronika Rosati, Andrzej Chyra
Poland. A masseur from Ukraine enters the daily, dull lives of the wealthy residents of a closed community. In spite of their wealth, these people look sad and bored. The hands of the newcomer heal them, his eyes seem to pierce their souls. To them, that man's Russian accent sounds like a song from the past, a memory of their childhood. Zhenia, this is his name, will change their lives.
Presented in Venezia 77
Und morgen die ganze Welt (And Tomorrow the Entire World) by Julia von Heinz (Germany, France, 101', 2020)
Cast: Mala Emde, Noah Saavedra, Tonio Schneider, Luisa-Céline Gaffron, Andreas Lust
Luisa, a 20-year-old law student, joins a cell of the Antifa group when she and her friends Alfa and Lenor get to know about an upcoming attack planned by a local neo-Nazi gang. As they try to find out more, the three youngsters delve deeper into the scene linked to right-wing movements and their political connections, to the point where they will understand how much they are willing to go further, in order to defend their own beliefs.
Presented in Venezia 77
Laila in Haifa by Amos Gitai (Israel, France, 99', 2020)
Cast: Tsahi Halevi, Maria Zreik, Khawla Ibraheem, Bahira Ablassi, Naama Preis, Hana Laszlo
The film was shot entirely in a nightclub, with an adjoining contemporary art gallery, whose customers are both Israelis and Palestinians, in one of Israel's most open cities, Haifa. A long night in a place where the most diverse people meet: Jews, Muslims, gays, heterosexuals, transvestites; and three women, who in that multifaceted microcosm, a gathering peaceful hideout, can find shelter from male bullying and arrogance.
Presented in Venezia 77
Terrain by Lily Baldwin, Saschka Unseld, Kumar Atre (Usa, Germany, Switzerland, 45', 2020)
Terrain is a journey into the Bardo: an otherworldly space between lives where we find an array of souls from across the world. We slip and at once fall in, leaving the everyday behind. This docu-dream is a story without words using the language of movement. Through a vivid and surreal landscape, each person encounters a series of distinct individuals and slowly rediscovers a larger collective body. Terrain is a dancing unison of difference. Our bodies bridge gaps between worlds, and with this we invent a new kind of non-verbal truth. This new interconnectedness propels us back to life again, essentialized by our shared sense of interbeing.
Presented in Venice Virtual Reality
Tengo miedo torero (My Tender Matador) by Rodrigo Sepúlveda (Chile, Argentina, Mexico, 93', 2020)
Cast: Alfredo Castro, Leonardo Ortizgris, Julieta Zylberberg, Sergio Hernández
Amid the political turmoil during the Pinochet dictatorship in Chile in the 1980s, a mature queer lady engages in a risky clandestine operation after falling in love with a guerrilla who asks her to hide dangerous secrets of the revolution at home. Film adaptation of the first and only novel written by essayist, chronicler, and novelist Pedro Lemebel, iconic figure of the LGBT culture.
Presented in Giornate degli Autori
Saint-Narcisse by Bruce LaBruce (Canada, Belgium, Luxembourg, 101', 2020)
Cast: Félix-Antoine Duval, Tania Kontoyanni, Alexandra Petrachuk, Andreas Apergis
Canada, 1972. Dominic, 22 years old, has a fetish… for himself. Nothing turns him on more than his reflection, with much of his time spent taking Polaroid self portraits. When his loving grandmother dies, he discovers a deep family secret: his lesbian mother didn't die in childbirth and he has a twin brother, Daniel, raised in a remote monastery by a depraved priest. The power of destiny brings back together the two beautiful, identical brothers, who, after being reunited with their mother Beatrice, are soon embroiled in a strange web of sex, revenge and redemption.
Presented in Giornate degli Autori
---
Films out of competition...
The Human Voice by Pedro Almodóvar (Usa, Spain, 30', 2020)
A loose adaptation of the original theatrical monodrama by Jean Cocteau, on which Pedro Almodóvar worked for decades. A desperate woman (Tilda Swinton) awaits for the phone call of the lover who just abandoned her. It's Almodóvar's first english-spoken project. Swinton/Almodóvar, two worldwide icons of both Cinema and Queer Culture, paired for the first time.
Presented in Fuori Concorso
Nattåget (The Night Train) by Jerry Carlsson (Sweden, 15', 2020)
Oskar is on the night train, heading home after an interview in Stockholm. With a long night ahead of him, he makes eye contact with Ahmad. For the first time he meets the gaze of someone who feels the same desire as he does.
Presented in Orizzonti
The Return of Tragedy by Bertrand Mandico (France, 24', 2020)
Two policemen interrupt a secret ceremony: a woman being disembowelled at the bottom of a garden to let out her inner beauty. This situation is presented in a variety of ways and all possibilities are explored.
Presented in Orizzonti
Queerskins Ark by Illya Szilak, Cyril Tsiboulski (Usa, 17', 2020)
Reading a diary left by the estranged son she has lost to AIDS, a Catholic mother (Hadley Boyd) living in rural Missouri finds a way to transcend her self and her grief by imagining him alive and in love. With heart-wrenching performances by Michael DeBartolo and Christopher Vo in volumetric video and the storytelling potential of spatial sound, Ark allows you to enter her imagination and co-create the lovers' intimate dance through your body position and movements. An Intel Studios Original co-produced with Cloudred.
Presented in Venice Virtual Reality
Gravidade VR by Fabito Rychter, Amir Admoni (Brazil, Perù, 15', 2020)
Gravidade VR is a wild ride through a chaotic world. In this experience you follow the last moments of two men (brothers? friends? loving partners maybe?) while free falling for 15 minutes. An emotional and thrilling journey in a surreal universe with no ground beneath your feet. A parable, a fable, an interactive experience.
Presented in Venice Virtual Reality
En ce moment (In this moment) by Serena Vittorini (Italy, 15', 2020)
In This Moment is a love story involving two young women during the lockdown imposed by the COVID-19 pandemic. They meet and fall in love, then the world shrinks around them, and their relationship is concentrated in one place and time. The film shows their attempts to express their own emotions and needs in a series of moments oscillating between intensity, suffering and passion.
Presented in Giornate degli Autori
Miu Miu Women's Tales #19 – Nightwalk by Małgorzata Szumowska (Italy, Poland, 9', 2020)
It's nighttime in Warsaw, Poland. Two very different homes. In one, a father is slovenly stretched out on a sofa, watching sports, expecting his son to be everything he is. In another apartment, all clean modern, an affluent mother sits to have dinner with her daughter, who isn't like her at all. Simultaneously, both the boy and the girl embark on a night journey of transformation, where they shed their inherited gender layers. The city streets become a catwalk of liberation. When they meet, by chance – face-to-face, body-to-body – they wordlessly mirror each other with comfort and assurance.
 Presented in Giornate degli Autori
J'ador by Simone Bozzelli (Italy, 16', 2020)
Rome. Claudio is 15 years-old. Someone is writing "J'ador" on his forehead because he smells like a little girl. It's Lauro, eighteen-year-old, leader of a group made of guys claiming to be fascists and doing a lot of things for a far-right party. Claudio wants to go with them to the "dinner", but only those who belong to the group can join it, and not the little girls like him. If he truly wants to achieve his goal, one afternoon Claudio must lose its boy scent and learn how to smell like a man.
Presented in Settimana Internazionale della Critica
---
Queer Lion this year pays tribute to "The Children's Hour", the 1961 masterpiece directed for the screen by William Wyler and based on the play by Lillian Hellman.
In the reimagining, illustrated by Francesco Gangemi, Karen and Martha – bound for a different epilogue in the movie – live a long, happy life and lovingly age together.