Director: Ulrich Thomsen
Writer: Ulrich Thomsen
Producer: Ulrich Thomsen; Henrik Puggaard
CGiii Comment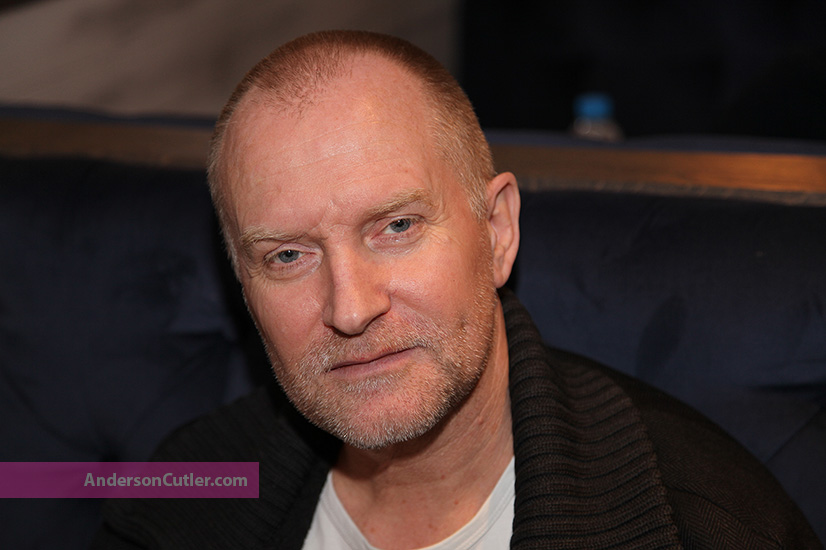 Who would imagine that the humble [and delicious] sausage had so much history!?! Well, Urich Thomsen certainly knows so...and, thankfully, he decided to share his acquired knowledge with the rest of us.
It's always a pleasure to sit down and have a wee chat with the director of a film you admire...Gutterbee is a beautifully-shot, often bizarre, totally madcap, [sharp] poke-in-the-ribs at everything we should [all] fight, fear and despise: Racism, homophobia, evangelism, cultural myopia, ethnic cleansing...the list goes on.
Now this all sounds like it's going to be a bit of an arduous trek [for a comedy]. It's not. What makes it even funnier [and more terrifying] than it is...is the fact that Mr Thomsen readily admits that he neither wrote [nor invented] the craziness...it was all there [for the entire world to see] on the internet. He just pieced it together, placed it in America and wrapped a story around it. And...what a story it is...from the opening monologue [full of eyebrow-raising ambiguity] to the closing [sensational] line...and, in between...it's not just sausages, lederhosen and hate...but, love. There is the love that dare not speak its name and a love that is wrought out of wood...oh, and, there's a racist cock too!
It's mad. It's scathing. It's scorching and searing...and then...just when you least expect it, delivers an emotional suckerpunch that will leave you...numb. Absolutely. It's an image that will linger.
Most certainly, Gutterbee will offend many, not only [non-liberal] Americans, but liberal ones too...perhaps, even a few Bavarians. But...it's the people who can't laugh at themselves, who take themselves far too seriously, who ram their outlandish and out-dated beliefs into the faces of other people...these are the people who deserve to be offended. Mr Thomsen has simply shown how ridiculous and dangerous these people are...and, he has done so with unbridled artistry, a wicked sense-of-humour...and, an underlying hint of menace.
Gutterbee should have a place in LGBT film festivals...it is a film that will both challenge and entertain. And, as the director said himself...homophobia has to be avenged. Well, his idea of revenge is not only jaw-dropping...but, utterly eye-watering. His message is loud and clear: Don't get on the wrong-side of Mr Thomsen...he might make a film about you!
Sizzling stuff.
---
Trailer...
The(ir) Blurb...
GUTTERBEE is a character-driven comedy about friendship and sausage–the German sausage, that is. Set in small-town America, it's a story about two men who are hopeless dreamers and who join forces in a quest to erect the ultimate German sausage restaurant: the Gourmet House of Refuge. GUTTERBEE is also a social satire about the nexus of fear, where religion becomes an intellectual cul-de-sac, and racism, homophobia, and intolerance reign supreme.
Cast & Characters
Antony Starr as Mike Dankworth McCoid;
W. Earl Brown as Jimmy Jerry Lee Jones Jr.;
Ewen Bremner as Edward Hofler;
Clark Middleton as Luke Kenneth Hosewall;
Sarah Minnich as Carol Anne;
Gareth Williams as William;
Chance Kelly as Sheriff T.J Brown;
Joshua Harto as Hank;
Luce Rains as Merle;
Christopher Hagen as Earl;
Pia Mechler as Sue;
Stephanie Hill as Citizen;
Taylor C Morgan as Tyrolean Dancer;
LynNita Ellis as Citizen;
Holly Adams as Britt;
J. Nathan Simmons as Citizen;
Brad Lund as Tyrolean Dancer;
David Hight as Cowboy;
Lucinda Marker as Tyrolean Dancer;
Christian Pedersen as Dusty