Director: Tony Grech-Smith
Writer: Christian Manley, Niki Xenophontos
Producer: Michelle Visage
CGiii Comment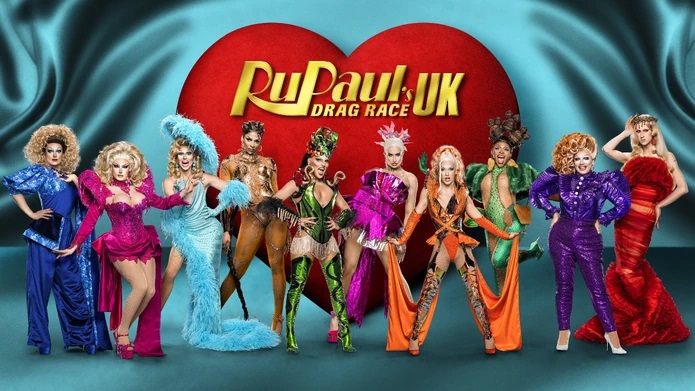 Series 4, Episode 1...
There's a way to play this game...and, one contestant certainly doesn't know how! She's put a target on her back from the get-go!
Great twist, duping all those safe Queens into thinking there were something they're not! That target just got a whole lot bigger!
But...who's back is it on?!?
---
Trailer...


The(ir) Blurb...
UK version of RuPaul's hit reality competition show where RuPaul searches for the country's next drag superstar.
Cast & Characters
RuPaul (as Self - Host / ... (45 episodes, 2019-2023))
Michelle Visage (as Self - Judge / ... (42 episodes, 2019-2023))
Alan Carr (as Self - Judge / ... (24 episodes, 2019-2023))
Graham Norton (as Self - Judge / ... (22 episodes, 2019-2023))
Kevin Max Grogan (as Self - Contestant / ... (14 episodes, 2020-2021))
Lawrence Chaney (as Self - Contestant / ... (13 episodes, 2020-2022))
Leo Loren (as Self - Contestant / ... (12 episodes, 2019-2022))
James Lee Williams (as Self - Contestant / ... (12 episodes, 2019-2022))
Luke Fenn (as Self - Contestant / ... (12 episodes, 2021-2022))
Tommy Hibbitts (as Self - Contestant (12 episodes, 2020-2021))
Elliot Glen (as Self - Contestant (12 episodes, 2020-2021))
Tayce Szura-Radix (as Self - Contestant (12 episodes, 2020-2021))
George Boyle (as Self - Contestant (11 episodes, 2020-2021))
Nick Collier (as Self - Contestant (11 episodes, 2021))
Louie Westwood (as Self - Contestant (11 episodes, 2021))
Christopher Adamson (as Self - Contestant / ... (11 episodes, 2021))
Michael Atkins (as Self - Contestant (11 episodes, 2022))
Danny Beard (as Self - Contestant (11 episodes, 2022))
Jonbers Blonde (as Self - Contestant (11 episodes, 2022))
Pixie Polite (as Self - Contestant / ... (11 episodes, 2022))
Black Peppa (as Self - Contestant (11 episodes, 2022))
Joshua Cargill (as Self - Contestant / ... (10 episodes, 2019-2023))
Owen Farrow (as Self - Contestant / ... (10 episodes, 2019))
Luke Underwood (as Self - Contestant / ... (10 episodes, 2019))
Philip Doran (as Self - Contestant (10 episodes, 2020-2021))