Director: Petter Ringbom
Writer: Petter Ringbom
Producer: Christophe Charlier; Alysa Nahmias
CGiii Comment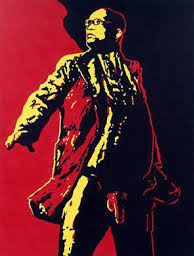 Freedom of expression and the power of art...
South Africa - now - faces State censorship, State corruption...this State flails under a leadership that is both decadent and dictatorial.
Mr Zuma does not like to be exposed...in public.
South African artists are fighting...painting, photographing, singing and dancing to expose these post-apartheid  inequalities - yes, the rest of the world practically ignores South Africa...the Queen even entertains Zuma at her dinner table.
These artists have a kindness, a mission, a purpose, a collective strength...this film does them the justice they deserve.
Fine, fine work.
---
Trailer...
Shield and Spear Trailer from Petter Ringbom on Vimeo.
The(ir) Blurb...
An artist paints a caricature of South African president Jacob Zuma that provokes a lawsuit, death threats and a massive street protest. Around this incident, Shield and Spear explores a constellation of stories about identity, art, race, and freedom of expression in South Africa, twenty years into democracy.
Cast & Characters
Zanele Muholi as Himself;
Hunter Kennedy as Himself;
Francois van Coke as Himself;
Iman Rappetti as Herself;
Ferial Haffajee as Himself;
Xander Ferreira as Himself;
Brett Murray as Himself;
Jaco van Schalkwyk as Himself;
Yolanda Fyrus as Herself;
Spoek Mathambo as Himself