The Celluloid Closet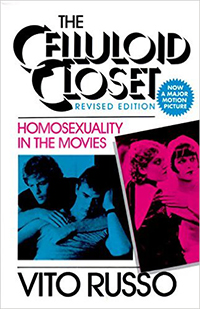 This is where CGiii began...
I was given this book many years ago...a book that stripped away all the joy that cinema had to offer.
A book written by a very angry man who thought that all gay representation should be of happy gay problem-less couples.
It has been said that time has not been kind to The Celluloid Closet...unarguably a true statement.
Still, Vito Russo was one of the first to write about the subject...albeit with an off-putting rage and outrageous idealism.
As an activist (and like all activists), he certainly had much to be angry about...especially, then.
Inequality was rife. The age of consent was a nonsense. And, AIDS had reared its ugly head.
Bleak times indeed. Cinema helped. For some.